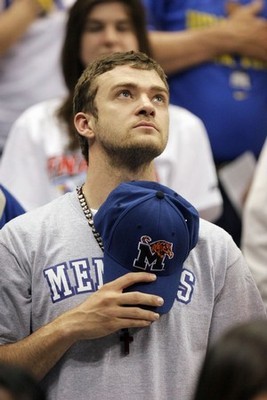 According to Marc Stein from ESPN, Justin Timberlake is becoming a minority owner of the Memphis Grizzlies.
Now before you go crazy over the headline this isn't another Christian Laettner deal where he intends to play for the Grizzlies. Justin Timberlake is joining the local ownership group as a minority owner only. 
The league office has already been notified of Timberlake's offer to join Robert Pera's group. This is considered another positive development for Robert Pera's offer as Timberlake is well-known by the league after participating in the All-Star game festivities last season. Timberlake is reported to be making a "sizeable" investment into the team and will be active. His involvement along with the other local owners including Staley Cates and Pitt Hyde, practically guarantees the team remaining in Memphis for an additional 15 years.
A native Memphian, Timberlake first became known to the nation on the TV show Star Search. Later Timberlake joined the Disney Mickey Mouse Club. He then went on to success with the boy band N'Sync before setting out on his solo career with the release of his album Justified. Timberlake has expanded his career to movies and TV shows as well.
Timberlake has been seen at Grizzlies games in the past with fomer celebrity girlfriend Cameron Diaz. It was reported in December, 2011 that Timberlake proposed to actress Jessica Biel.
This is another investment back into Timberlake's home town. He previously purchased the eco-friendly golf course called Mirimichi in North Memphis.