Here we go again! 3 Shades of Blue is back for another week of pre-season snapshots of all 29 of our opponents.  This week we will be taking a look at the Atlantic Division.  If you're just joining us, be sure to check out our analyses of all our Western Conference foes!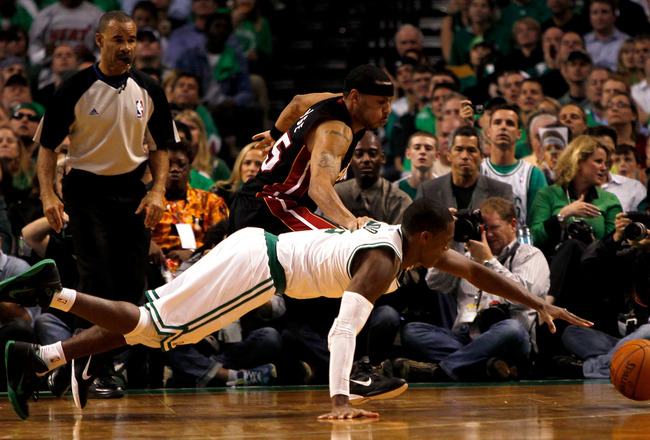 Enemy: Boston Celtics
Coach: Doc Rivers
Potential Starting 5: Rajon Rondo, Courtney Lee, Paul Pierce, Brandon Bass, Kevin Garnett
Other Key Players: Avery Bradley, Jason Terry, Jeff Green, Jared Sullinger, Darko Milicic
Threats: Experience, Chemistry, Coaching, Leadership, Rondo's playmaking, Shooters
Grizzlies 2011-12 Record vs.: 0-1
Commentary:
Seemingly since this incarnation of the Boston Celtics was crafted, its existence has been pervaded by the musing of how long they will be able to keep the band together.  While the Celtics have been strong in their efforts to quiet the speculation, there is no doubt about the fact that there is a changing of the guard to be undergone within the near future.  Well, this offseason, the first domino fell, as Ray Allen took to free agency to punch his ticket to pow-wow with the super-friends in South Beach.  It's undeniable that Allen is a phenomenal shooter, and was an integral piece of the Celtics prior successes, but now was as good a time as any for the two sides to part ways, and the team just may be better for it.  With Paul Pierce and Kevin Garnett rising in age, and Rajon Rondo's skill set far more suited for facilitation, the Celtics stand to benefit greatly from adding another guy who can not only shoot, but create his own shot.  Oh wait, they did that!  Jason Terry makes his way up to Beantown after an illustrious career with the Dallas Mavericks, and judging by his new tattoo, he's pretty confident in his next venture's prospects, as well.  On top of the Terry signing, the C's managed to improve their depth in a number of ways.  Terry will serve a similar purpose to that of Allen, but more importantly will be willing to come off the bench, which seemed to be a far more fitting rotation for the role last season.  Defensive specialist, Avery Bradley started in the gap at the two-spot last year, and was intrepidly effective in his efforts.  Bradley will start the year recovering from his shoulder injury and will surely re-capture a good bulk of minutes when he returns, but Courtney Lee was brought aboard to hold down the starting role and lock it down on the defensive end at the very least for the time being.  Through the draft, the Celtics pulled two invigorating young big men to a front-line that was in desperate need of some additional substance, and further attempted to alleviate this need with the recent signing of the always entertaining Darko Milicic.
After having little luck trying to find an adequate starting-caliber center to start alongside Garnett, the Celtics decided to try something new.  So last year marked the official advent of the "let's play KG at center" experiment.  The experiment actually turned out to meet with favorable results.  The Celtics took care of business all the way up to the point in which they established a 3-2 lead on the Miami Heat in the Conference Finals.  While the momentous Garnett performed admirably at the 5, that was not to say that the team was not hindered by its shallow rotation down in the paint.  To shore this up, they began by taking this year's poster child for fallen draft stock, Jared Sullinger.  Sully was penciled in as the first overall pick on and off just over a year ago, but stayed at Ohio State for another year, and injury concerns nipped his promising draft stock in the bud.  While this bode poorly for him, the Celtics may have made out like bandits to have him fall to them so late in the draft.  If the guy can overcome these red-flag hurdles and manage to stay on the court, the C's may really have something here.  Sullinger should at the very least become a Big Baby Davis clone, with plenty of potential to become way more.  Like any rookie, he will require some time to get the hang of things, but he could really turn out to become something special.  The additions of Fab Melo and Darko likewise bring with them two legitimate seven footers, who will if nothing else hang around the paint and send some opposing shots in the other direction.  If that's not enough (and given this franchise's recent injury history, it may not be), journeyman Jason Collins has been brought to the mix, and doesn't figure to play too many minutes, but will be waiting to bang bodies and trade blows with whatever big men a given opponent decides to throw at them.  A wild card returning to the roster is Jeff Green out of Georgetown.  Before the surgery that forced Green to put his career on hold, he was carving out a reputation for himself as a solid, multi-versed threat, and had been working to prove to Celtics fans that he was worth trading Perkins for.  Judging by the four-year contract that he just received, the C's view him as a part of their future.  Also at the forward spot is Pierce, but we all know exactly what he is capable of at this point, and he will continue to make his living punishing opposing defenses in the upcoming NBA campaign.  Staying on the wings, new addition, Courtney Lee may be one of the biggest and one of the most unheralded signings this summer.  Lee is a fantastic defensive player, and as some icing on the cake for the Celts, he very much adept at moving without the ball and finding openings to get some looks in.  He shoots the three-ball with a pretty good degree of regularity, and is now playing on a team with phenomenal point guard that you know will learn his spots, and set him up in a position to succeed.  In my last post I declared myself to be 50 shades higher on Demarcus Cousins than the rest of the world, but that would mean I've got 51 up when it comes to Rondo.  The facilitative instincts that he possesses are just unreal.  His court vision and pinpoint precision passes are a thing of beauty, which makes you wonder what he could become if he ever gets his jump shot to the point where defensives cannot simply sag five feet off him near the arc.  I really don't think he's as far off from Chris Paul's unofficial claim as the league's top point guard as it may seem, because I value his defensive aggression and ability to make others around him better so highly.
Every game counts.  I'm going to say (and I'm pretty sure everyone agrees with me here) that even though we only played these guys once last year, and twice coming into this, we don't want to give any games away.  Last season our meeting with the Celtics left us crying, sandwiched in between games against Western Conference Finalists, the Thunder and Spurs, respectively, as we got blown out by 18 on their floor.  How much stock do I want to put into one game against an opponent, and at that one that we played amidst a tough stretch in our schedule, without our stud power forward?  Truth is, not all that much, but there is a bit to take away from the matchups.  For example, Michael Conley and Rondo do in a sense remind me of one another.  On the defensive end, the two of them are fighters who will strip the ball right away from your person, and lay it all on the line to dive out and retrieve it.  Outside of the point guards, since we signed Celtics alum, Tony Allen, there has been a striking resemblance between the formulas for building these teams.  From the scoring small forwards, Rudy and Pierce, to the seasoned power forwards, Zbo and Garnett, to the defensive energy guys, Allen and Bradley, to the shooters, Mayo and Ray Allen, to the replacements for those guys departed in the same offseason, Jerryd Bayless and Jet, there are a lot of similarities to the squads.  On the whole, they possess more experience, and emphasize movement off the ball that will leave us scrambled on the defensive end, and look like toddlers in comparison when we've got the ball.  Doc is a fantastic coach, and you can always count on him to have his guys ready to play.  However we have the girth and proven grind in the post that Garnett wishes he had alongside him.  After playing us two seasons ago, Garnett was quoted as saying something to the effect of "I felt like I was wrestling a grizzly bear all night," with regards to his experience battling in the paint with Randolph.  Well friends, that's what it's going to take for our Grizzly bears to take them down.