Which organizations boast players with the best value at the cheapest price? With a huge influx of young talent, teams employing the Kawhi Leonards, Paul Georges, and Damian Lillards of the league provide us with some easy answers. Role players like Danny Green, Chris Andersen, Thabo Sefolosha, and the Grizzlies' very own Mike Miller can also provide huge impact at a minimal cost.
I wanted to look outside the rookie and role-player-containing box and review the best "bang for buck" two-player duos. Players who play a decent role in their offense were as candidates, as anyone with a USG of 17% or greater was eligible (see: Basketball-Reference.com for USG definition). The goal was not to evaluate how the players operate as a duo per se, but rather to gauge their individual output as a pair. Here are my findings for "best value duos" in the NBA:
Honorable Mention: New Orleans Pelicans: Ryan Anderson ($8.3m) and Jrue Holiday ($9.2m) (($17.5m))
Not top-tier players, but cost little given their overall production. Jrue Holiday played at an all-star level for a good chunk of the season last year, embodying a very solid point-guard all around (his defense is regularly overlooked). Ryan Anderson could improve his defense and passing, but provides valuable scoring and rebounding for a stretch four.
10. Atlanta Hawks: Jeff Teague ($8m) and Paul Millsap ($9.5m) (($17.5m))
Not the most talented duo of the bunch, but still embody two of the more underrated players in the NBA. Jeff Teague isn't the most consistent player nor does he control the game as a point guard, but he's ultra-athletic with a nice knack for finding holes, penetrating into the teeth of the defense, and playing solid defense. Paul Millsap is a highly-versatile, intelligent power forward who will hustle, rebound, defend, and knock down the midrange shot. For a GM to nab this duo for literally half the price of a CP3 and Blake duo is a victory.
9. Brooklyn Nets: Andrei Kirilenko ($3.1m) and Deron Williams ($18.5m) (($21.6m))
There is not much to be said here other than: what a steal the Nets got in Kirilenko. Andrei, a jack-of-all-trades of sorts, shoots at a nice clip, passes intelligently, defends tenaciously, and airballs a little too much given his skill level. Combining Kirilenko with a top-five point guard in Deron gives you everything you need on the basketball court, and at a very affordable price.
8. Los Angeles Clippers: Chris Paul ($18.7m) and Blake Griffin ($16.4m) (($35.1m))
As Blake Griffin continues to grow, particularly in the areas of shooting and defense, this pair becomes more and more frightening.  They play inside-out beautifully, and their passing and efficiency is top-notch.  These franchise players will give you everything aside from shot-blocking, and will not back down from berating and intimidating referees, nor be scared away by flopping fines.  The only thing holding this duo's rank back is their hefty 2013-14 price.
'
7. Memphis Grizzlies: Mike Conley ($8.2m) and Marc Gasol ($14.6m) (($22.8m))
The best defensive one-five duo in the NBA. This duo lacks some scoring and rebounding, but plays a very intelligent game, passes great as a unit, gives you the outside shot, and plays both ends at an elite level.  A combination of ambidexterity and touch that no other pair possesses.
6. Chicago Bulls: Derrick Rose ($17.6m) and Joakim Noah ($11.1m) (($28.7m))
Derrick Rose's injury slides this pair down a few spots, but these two signify Chicago's core and are the two biggest reasons for their recent successes. Rose's offense and Noah's defense could very well propel Chicago into the Finals this year – especially if Rose comes back with an extra-tight handle, an improved shot, and smarter defense, like I suspect he will.
5. Golden State Warriors: Andre Iguodala ($12.9m) and Stephen Curry ($9.9m) (($22.8m))
Arguably the two best players on perhaps the best starting five in the NBA this upcoming year. This duo will put fear in their opponents on both ends. Stephen Curry's $10m/year contract might be the best value in the NBA – until he re-injures his ankle, of course.
4. Oklahoma City Thunder: Russell Westbrook ($14.7m) and Kevin Durant ($­17.8m) (($32.5m))
The most electric duo of them all, with both players able to completely control a game single-handedly. Sometimes I stop and marvel at the fact that these physical specimens get to play together. Worth the price for any GM to splurge on.
3. Houston Rockets: James Harden ($13.7m) and Dwight Howard ($20.5m) (($34.2m))
If James Harden picks it up on defense this year, he'll be the best shooting guard in the NBA; if Dwight Howard resembles Orlando Dwight at all, this duo has the potential to be the NBA's best. This tandem leans towards the pricy side, but it's well worth it for the now-contenders in Houston.
2.  Miami Heat: LeBron James ($19.1m) and Chris Bosh ($19.1m) (($38.2m))
Yeah, they aren't a cheap duo to employ. But LeBron James might be worth double his paycheck.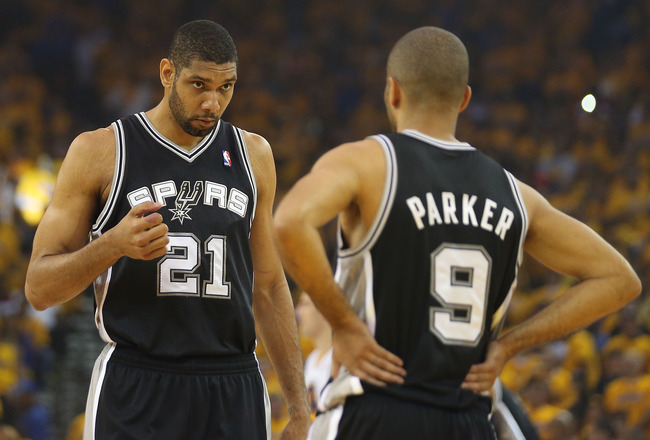 1.  San Antonio Spurs: Tony Parker ($12.5m) and Tim Duncan ($10.3m) (($22.8m))
A combined 68 years old for this pair, and yet, San Antonio holds these all-stars at a ridiculously low price.  Duncan arrived in the league as an elite player, and Parker had to work through various tribulations to become the ultimate offensive force he is today. The end result is the same. This duo represents perhaps the smartest, most selfless, and skilled duo out of the bunch.