The 3 Shades of Blue name has grown this year with the addition of 3 Shades of Blue radio on WHBQ radio every Saturday morning from 9-10. However, that doesn't mean the blog won't still be the prime place for answers to your most pressing Grizzlies questions.
Along those lines, we asked the writers to answer five questions on the upcoming season that people have wanted to know. We plan on continuing this thread of Q & A as the season progresses so if there are questions you want answered feel free to drop a comment with your question. We will try and answer every legitimate question asked.
Question #1: Which Grizzlies player is most likely being shopped around the league?  
Jonathan May: Bayless. Sure the team would probably like to have some options for Tay and Zbo, but with no clear market for either and questionable replacement players on the roster, Bayless is the most attractive asset on the roster today.
Phillip Dean: Tayshaun Prince. I believe that if Prince doesn't produce for this team by end of November, the front office will be looking for something younger. Someone will eventually take the massive contract of Prince's. Someone took Rudy Gay's, so why not?!
Lee Eric Smith: Tayshaun Prince. Yes, he's a champ, and he provides leadership and helps the offense flow. But he's also on the books for $14M over the next two years, with a younger, cheaper, blossoming Quincy Pondexter waiting in the wings, earning only $5M over the next two years. Even if it's only to free enough room to resign Pondexter, Tay could be on the move.
Chip Crain: Zach Randolph. The front office is high on Ed Davis for some reason and Randolph's contract makes it very difficult to imagine the team keeping him with Davis needing a new contract next summer as well. Davis is young, promising and scores well on certain metrics highly valued in the Grizzlies front office not to mention the punitive CBA for teams these days.
Josh Coleman: Jerryd Bayless. The front office didn't expect him to opt-in to the second year of his contract, and with the additions of Nick Calathes and Mike Miller, the wings are suddenly more crowded than ever before. Even if Bayless outplays his contract's dollar amount, I still think the Grizzlies will try to flip him for something more desirable that also allows them to play Calathes, Miller, and Quincy Pondexter more minutes.
Question #2: Which current bench player has the best chance of breaking into the starting five in the future (and that doesn't mean just this season)?
JM: Quincy. I don't think he is a starting small forward under ideal circumstances, but if the team found a way to move Tay then they would likely be comfortable running Quincy out at the 3.
PD: Quincy Pondexter. Produced great minutes throughout last year's playoff run and has proved to be a key shooter for this team.
LES: Quincy Pondexter. He has two shots, actually. See above regarding Tayshaun Prince. But he's also capable of stepping in at Shooting Guard if The Grindfather is hurt — plus he's better offensively.
CC: Quincy Pondexter. Q-Pon is a tad small to play SF full time but with two aging SFs on the roster he will get plenty of opportunity to show at 6-6 he can still play the position. If Prince looks too sluggish expect Quincy to fill the gap.
JC: Mike Miller. I know, I know…the easy answer is everyone's favorite breakout star from the playoffs, one Mr. Quincy Pondexter. But, if Tayshaun falters or gets injured, I can see Joerger and his staff replacing one veteran with another with the notion that Miller's spot-up shooting will fit in better with the frontcourt pairing of Marc and Z-Bo, while Q-Pon can still play more minutes off the bench and provide energy with the second unit.
Question #3: Who will likely lead the team in minutes off the bench?
JM: Kosta Koufos. Obviously Ed Davis, Bayless, Quincy and Mike Miller will play major roles in reserve, but I expect CDJ to give Marc Gasol more time to rest and to play Marc and Kosta together at least a few minutes a game.
PD: Ed Davis. This is a make or break year for Ed and can see him providing a lot of help for Z-Bo this year.
LES: Kosta Koufos. On the perimeter, there are too many options for any bench player to log heavy minutes. Ed Davis has yet to show he's worthy. Kosta can backup both Marc & ZBo, losing very little in rebounds & defense. That's why he'll log the most minutes off the bench.
CC: Quincy Pondexter. It only makes sense if QPon is looking as the most likely player off the bench to replace a starter that he should also get the most minutes off the bench this season. Quincy is a defensive presence at two different positions and has the perimeter shot valued by the coaching staff.
JC: Kosta Koufos. I think that Ed Davis will get a chance to prove himself, but based on what I've seen of Jon Leuer since his arrival on Beale Street, he might cut into some of those minutes this season as a stretch-4. The wing options are plentiful, which makes it hard to say Quincy or Bayless will get a ton of minutes. Koufos will be able to play both frontcourt spots and might even start occasionally when Marc or Z-Bo need a night off.
Question #4: Who will lead the Grizzlies in scoring this season?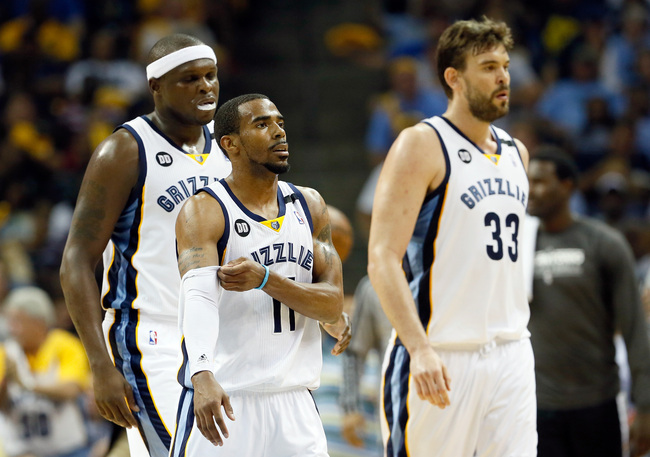 JM: I'm going to go a little out on a limb and say Mike Conley. The safer bet may be on Zbo or Marc, but I expect Conley to take a very aggressive role, particularly when he is on the floor with Allen and Prince. His increased confidence from behind the arc combined with his savy ability to get to the rim will lead to a higher scoring average than most anticipate.
PD: Mike Conley. I feel like this is the year he can prove he is one of the top point guards in the league.
LES: Mike Conley, but not by a wide margin. Joerger is stressing sharing the ball, so I expect fairly balanced scoring. Uptempo offense also favors quick PGs, and Conley is certainly that. And the offense just flows better when Mike looks for his own shot. I think 3-4 guys will average between 15-20 ppg, but I'll be shocked if any single player averages more than 20 ppg — even ZBo.
CC: Zach Randolph. His minutes will be shortened but his production should benefit with space spreaders like Miller, Pondexter, Bayless and Conley. Teams won't be as quick to double down low and the opportunity for more offensive boards can't be ignored either.  The idea is to force defenses to spread but not abandon the interior offense completely.
JC: Marc Gasol will just edge out Conley and Randolph in this category as he finally begins to look for his own shot more in both the low-post and from the elbow.
Question #5: Who will lead the team in rebounding?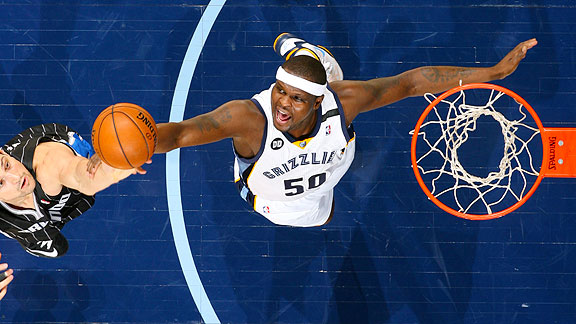 JM: Randolph, but Gasol will close the gap a little this season.
PD: Marc Gasol. It will be a tight race between him and Randolph but I see Gasol finishing ahead.
LES: Zach Randolph. And I expect much of this to come at the offensive end. The quicker offense will mean earlier shots and enough missed for his OReb numbers to trend upwards, especially if he gets his rebounding position faster than his opponent. Overall, the Grizz have the pieces to be a dominant rebounding team. This should be fun!
CC: Zach Randolph. He likely will not average double digit boards a night however. Gasol, Koufos, and Davis will all pound the boards, taking away some of Randolph's PT and opportunities but in the end Z-Bo will do what he does best enough to lead the team.
JC: Zach Randolph, although Gasol and Koufos will likely challenge him for this category. Z-Bo is still an elite rebounder (especially on the offensive end), so expect him to continue to grab plenty of boards.