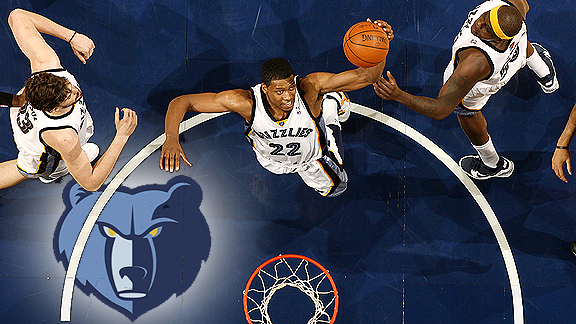 As per tradition, this is our entry for the annual Blogger Previews as put on by CelticsBlog. You know, the previews we've been posting by division for the last few weeks if you've been paying attention. Remember: all predictions guaranteed wrong or your money back!
Team Name: Memphis Grizzlies
Last Year's Record: 41-25 (equivalent to a 51-31 season), 4th in the Western Conference
Key Losses: Ovinton J'Anthony Mayo
Key Additions: Jerryd Bayless, Darrell Arthur (injury)
1. What significant moves were made in the offseason?
First, Memphis did what they have done best in recent years by locking up their own free agents that they intended to keep. They re-signed Marreese Speights and Darrell Arthur to market level contracts, shoring up their frontline behind All-Stars Zach Randolph and Marc Gasol.
Then they had to address the backcourt. Out: O.J. Mayo. In: Jerryd Bayless. On the surface, this might seem like a resulting deficit for the Grizzlies, but not in the greater scheme of things. Bayless possesses superior shooting and ball-handling ability, both of which are sorely needed as the backup to Mike Conley. Also, he has made it clear that he is willing to embrace his role as the primary bench scorer and facilitator.
2. What are the team's biggest strengths?
Balance and chemistry. From top to bottom, side to side, this team can play with anyone on any night. They are solid at every position and boast potential All-Stars at every frontcourt position. Their chemistry is one of the things that allows any one of 5 to 6 players to be the leading scorer on any given night. It also feeds into their belief and trust in one another, which directly contributes to their often stifling team defense. They hustle, they crash the boards, and they just generally make things difficult for their opponents. With the additions of Bayless and Wayne Ellington, and the improvement of Josh Selby, even their perimeter shooting is no longer a glaring weakness, meaning they finally have something to keep teams from packing it into the lane on defense against Z-Bo and Gasol.
3. What are the team's biggest weaknesses?
Over the last couple of seasons, I have seen two issues come to the forefront for Mempis. First is their lack of ruthlessness. When other playoff-level teams rush out to a big lead early in the game, most of them have the wherewithal to put their foot on an opponent's neck and crush the life out of them. Not the Grizzlies. Time and again, they allowed teams to whittle away at big leads, which often led to late-game heroics being a necessity in order to come away with what should have been a comfortable win. They'll have to rectify that this season.
The other problem they have had is that nobody is really sure who "the man" is on this team. Two years ago, with Rudy Gay sidelined for most of the spring, it was Z-Bo who put the team on his shoulders and carried them. Last year, with Randolph out for most of the lockout-shortened season, it was usually Rudy who was the driving force for the team. This year, with (hopefully) both of them healthy, it will be interesting to see just who grabs the reins and takes charge of this team. One of the reasons this is so important is that a team needs a focal point during a tough stretch, someone they can look to when things are going south and need to be turned around. The Thunder have Durant, the Mavs have Dirk, the Lakers have Kobe, etc. Who will be that guy?
4. What are the goals for this team?
A return to the playoffs is the first goal, obviously. They were a #4 seed last season (tied with the Lakers for 3rd best record in the West) and would like to duplicate that, at the very least. If they can keep everyone healthy, there is no reason to believe that they cannot win the Southwest Division for the first time, and possibly even challenge for a top seed in the conference.
Another goal is to establish everyone's role on the team early. With two proven stud scorers at the forward positions, an All-Star center, one of the best young point guards, and the league's best perimeter defender in the starting five, this team doesn't lack much. If Bayless, Speights, Pondexter and Arthur (once he's healthy) can fill the primary bench roles, with Selby, Wroten, Ellington, and Haddadi taking care of the mop-up/spot minutes, then this team could find themselves in rarefied air by season's end.
5. What are the best and worst case scenarios for this team?
Worst case: Barring injuries, worst case is that they struggle to maintain the defense and rebounding that has been their calling card the last few years, leading to them fighting for playoff positioning among the bubble teams.
Best case: Not to get overly optimistic, but this team has the potential to be very, very good indeed. Like…good enough to challenge the Thunder and Lakers for conference supremacy. After all, they took the Thunder to 7 games without having Rudy Gay available. They have always played both the Lakers and Dwight Howard well, thanks to Marc Gasol. Just because they are one and the same now won't likely mean much to him — or Z-Bo. This team could be playing into June if everything falls into place.
Prediction: 57-25, 2nd in Western Conference