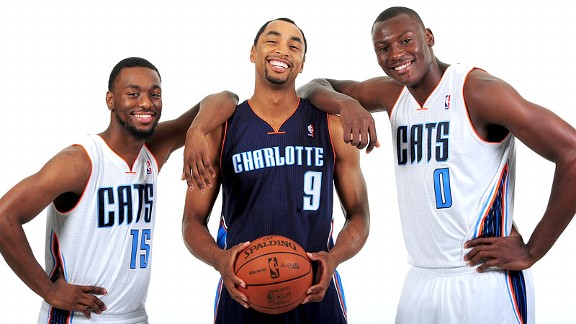 Enemy: Charlotte Bobcats
Coach: Mike Dunlap
Potential Starting 5: Kemba Walker, Gerald Henderson, Michael Kidd-Gilchrist, Byron Mullens, Bismack Biyombo
Other Key Players: Brendan Haywood, Ramon Sessions, Ben Gordon, Tyrus Thomas, Matt Carroll, Jeff Taylor
Threats: Defensive schemes, Promise of MKG, New uniforms
Grizzlies 2011-12 Record vs.: 1-0
Commentary:
I kind of like the Charlotte Bobcats' new uniforms.  Unfortunately that's probably all I like about the Bobcats… I kid, but it's not all that far from the truth.  Believe it or not, as bad as the Charlotte Bobcats looked, it was not too long ago that they resembled a promising team.  With a squad that was led by Gerald "Crash" Wallace, and held the gritty no-nonsense Stephen Jackson, and post protector, Tyson Chandler, the Bobcats were developing an identity as a real deal defensive team, and at that one that was sneaky good at squeezing out victories.  They made the playoffs back in 2010, and despite getting swept by Orlando, displayed a degree of hope-inspiring competency that the fan base had never before seen from their home team.  All be told though, we all know how that turned out.  Without tearing into the hearts of Bobcats fans by going into the specifics of what went down, let's just leave it at the fact that they failed to follow up.  So now where we stand with this team is pretty much reliant on a prayer.  They missed out on the ceremonious first pick, which amounted to the franchise-changing Anthony Davis, by one draft slot and are hoping that they landed a franchise-changer of their own in Davis' college teammate, Michael Kidd-Gilchrist.  The selection of Kidd-Gilchrist is reminiscent of when our Grizzlies drafted Mike Conley.  The similarity in vibe that I'm sensing is the phenomenon of playing with the top ranked player in the country bumping his stock a bit.  In the case of Conley, it was Greg Oden.  While the pick is certainly defendable in its own right, you have to wonder if the hype surrounding the school he played for factored into perception of him.  Kidd-Gilchrist joins this roster as a newcomer along with the amnestied Brendan Haywood, the once-promising-but-crestfallen Ben Gordon, and the journeyman Ramon Sessions.  Rookie head coach Mike Dunlap hopes to ignite a fire under this derelict bunch, and get them to restore (or introduce) dignity to this franchise's likeness by getting them to stand up to the rest of the league with a bit of pride, buck up and play some defense.
With the drafting of Kidd-Gilchrist and last year's development of two-guard Gerald Henderson, the Bobcats' strength figures to lie on their wings.  For a franchise that has relied on and rallied around Gerald Wallace for the majority of its existence, I cannot picture a better fit for the rebuilding effort going forward than Kidd-Gilchrist.  He is a hard-working player who hangs his hat on the defensive end of the floor, and will surely endear himself to the fans in Charlotte.  He's a sure bet to find himself among the favorites of Coach Dunlap, as well.  While he's definitely best suited as a complementary player, and may not possess the true upside that his draft pick status would suggest, he should be sound nonetheless, and provide stability at the small forward position for years and years to come.  So as long as expectations are tempered and nobody is expecting him to be the next incarnation of their owner, Michael Jordan, the fans and organization will be very pleased with his presence.  As for his fellow wing man on the squad, Henderson was a lone bright spot for the Bobcats last season, posting career highs of 15 points 4 rebounds and a steal per game.  This year he returns in the team captain role, hoping to instill some drive in his fellow teammates.  The recently traded-for Ben Gordon figures to move back full time to the sixth-man role that he thrived so admirably in earlier in his career, but alongside scoring point guards Ramon Sessions and Kemba Walker, it is questionable at best to assume that he will find the same success.  Speaking of Walker, his development will be critical to the Bobcats' ability to achieve anything this season.  Last season he showed us that there is a place for him in this league, but he also showed us that he was a rookie.  He has phenomenal scoring instincts, but is going to have to prove to be a little better at the distributing aspect of the point guard position if he is going to take true residence there.  The final area for the Bobcats is the frontline, which is a whole mess of who-knows-what.  Last season Byron Mullens posted pretty nice stats, but does not really operate in the post as much as a man his size should.  Tyrus Thomas has the athleticism and talent of another early lottery power forward out of LSU, whose name escapes me at the moment… okay, I'm being facetious.  Super-veterans Desagana Diop and Haywood hope to offer some stability and at least distract fans from the weak reputations they have developed in response to their enormous contract deals.  While all the aforementioned bigs surely factor into the major equation in Charlotte, none carry the weight on the importance of their development that has been bestowed upon Bismack Biyombo.  Acquired from last year's draft lottery via trade, the Bobcats have a lot invested in the Congolese big man with the wingspan of an airplane.  For now, he can dunk and block shots, but for him to be effective for his team, especially one day in a winning context, the principles of patience and discipline need to take hold within his game.
Last season, amidst a Grizzly victory over the Bobcats that consisted of a five-point-margin, which was about twenty too few, Biyombo mouthed "This is my house," to which Rudy Gay so eloquently responded, "You have seven wins, it's everybody's house. "  When we play them this year, I expect nothing too far beyond the limits of the results of that matchup.  Sadly, our Grizzlies tend to put it on cruise control when they bust out to an early lead (see Game One of the playoffs).  While the Bobcats are ultimately moving in the right direction (since they can't move any further in the wrong one after last year), there is still a significant gap between the talent levels of the two teams.  At least four of our starters are overall better players than anybody that the Bobcats have to offer, and until the contrary remains to be seen, Tony Allen might have a leg up on MKG as well.  Thus, I figure we'll get a huge lead, coast, keep it close, and pull it out by single to low double digits in the end.  I'm going to come off like a big meanie, for lack of a better term, if I go into depth to break this matchup down any further, so I'm going to leave this one where it stands.  For the Bobcats, the goal is to get better and shed the past.  With the provision of some hope in the form of MKG, and with some sweet new uni's, to look good doing it, the 'Cats are on their way in the right direction, but still a few thousand miles away from their destination on horseback.  If this was Burger King and Coach Dunlap could have it his way, they'd be proud owners of at least a few more than seven wins by 2013, but with the tools he has to work with, it's not given.  With a few ping pong balls already getting cozy for them in next year's lottery drawing, hope cannot flee them any longer, can it?