Last night was the absolute embodiment of the Grizzlies' mantra: Grit and Grind.
Tony Allen coined the phrase the night that he proved his ability to the coaching staff and to the fans, by stepping into the role of starter in a road game in Oklahoma City in February 2011 after Rudy Gay had to sit out with a sprained big toe. O.J. Mayo was also unavailable in that game due to a league-imposed 10-game suspension. Pressed into service, TA made Durant work for every shot (he still had 31 points on 12-25 shooting because he's a scoring prodigy), but although his defense was solid, it was his offense that surprised everyone. The shooting guard who couldn't shoot somehow managed to score 27 points on 9-12 shooting from both the floor and the charity stripe. After the game, a 105-101 overtime victory for Memphis, he had this to say:
In the press conference after last night's game, one of the most noteworthy quotes came from head coach Lionel Hollins when he said, "We scratch and we claw. As they say, Grit and Grind… I don't even know what the heck that means."
It was a comment that drew plenty of laughter from the media gathered around him, after his team gutted out another OT win over that same Thunder squad. However, beyond its life as a catchphrase, a slogan that adorned the Growl Towels in FedExForum, a building since renamed The Grindhouse by the Grizzlies' faithful, what does it actually mean?
It isn't just about one game or one series or even one season. It's not about one player, although Tony Allen is certainly the Grindfather who is the heartbeat that drives it. It's no longer even about this team, although they are the ultimate example of this phrase that has galvanized a city.
All Heart. Grit. Grind.
While several have offered their thoughts on the matter since last night, I believe that it is more about Memphis than just the Grizzlies.
One of the things that is often said after a hard-fought game involving a team from the (We Don't) Bluff City, be it Grizzlies or Tigers, is "Well…they're never easy, are they?" And that's just it: Memphians don't expect things to be easy…ever.
As I entered the parking garage near midnight, a guy about my age got in the elevator with me, and I spotted the yellow Growl Towel in his hand and the Grizzlies cap on his head. We looked at each other and in unison shook our heads, grinned, and breathed a heavy sigh of relief. I told him, "Between the Tigers and Grizz, I'm losing years off of my life." He nodded in agreement. It didn't require any further explanation. If you're from Memphis — you just know.
I've grown up here. I've been steeped in it my entire life. Memphians rarely expect to hear good things about their city. Instead, they believe they will have to convince you about the good qualities of their hometown. This is not a city with glitz and glamour like Los Angeles, or a cosmopolitan mecca like New York City, or even a sprawling metropolis like Houston. This is a city that is all about its own identity — and it is an identity that is represented by that mantra: All Heart. Grit. Grind.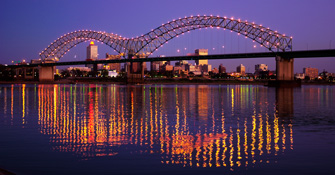 Memphis is blues and soul, and rock & roll. It is the best barbecue on the planet. It is basketball. It is weather that changes as quickly as cars changing lanes on the I-240 — and it doesn't use a turn signal either. Above all else though, Memphis is a blue collar town with a chip on its shoulder.
This Memphis Grizzlies organization has had plenty of ups and downs. From the first two seasons, where it was a young team learning how to win, to the three straight postseason trips that all ended in first round sweeps. Following that, it was an arduous rebuilding process that saw the players that everyone liked traded away, but never with any big names coming back to excite the fanbase.
Now, we are in the midst of another three straight years of playoff appearances. But this team is very different from the first squads to play beyond mid-April. This team is tough. They don't win games so much as wear opponents down until there is nothing left of them. When they get down big (like being down 17 points in the 2nd quarter last night), they don't fold up the tents and move on. Nope — they keep plugging away until they have whittled that deficit down to nothing…and then they reach out, grab victory, and put it on a log chain in the front yard like a junkyard dog. That is what separates this team from previous Grizzlies' teams — and it is what makes this city embrace them wholly and unequivocally, because it is a reflection of Memphis itself.
Hard work. Determination. Where there's a will, there's a way. Never say die. That's Memphis. That's the Grizzlies. And that's what Heart-Grit-Grind really means.