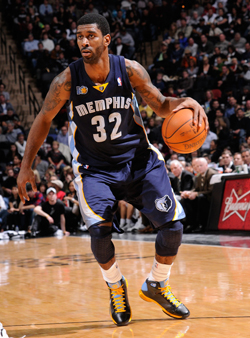 O.J. Mayo stated that he wants to play point guard going forward. It's the position he played for most of his basketball career before his freshman year at USC, where roster limitations forced him into playing the off-guard position. He has logged most of his playing time at SG during his four years in the NBA.
Given the fact that he is somewhat under-sized at 6'4″ to play the 2-guard, I can certainly understand why he would prefer to move back to the more familiar position as the lead guard. Having the ball in his hands more would likely make him a more effective scorer, too.
In the moments following Sunday's series/season-ending loss to the Los Angeles Clippers, many thoughts bounced around in my head. Obviously, not all of them were positive.
However, two things that I was very positive about were: 1) O.J. Mayo will not be in Beale Street Blue next season; and 2) O.J. Mayo is not a point guard.
I'm sure there are people who would love to argue this point with me, but I'm not interested in arguing a point where the evidence is so overwhelming. Anyone who watched Mayo struggle against pressure while bringing the ball up the floor should have recognized that his ball-handling was not up to par to be an NBA-level PG. That alone should have been enough of an indictment.
Yet, if you needed more proof, you had only to look to his inability to make A SIMPLE ENTRY PASS against a single defender in the series against the Clippers. That's right — he couldn't pass the ball to his teammate because of the overwhelming size of…….Chris Paul (6'0″) and Eric Bledsoe (6'1″). *sigh* For those of you scoring at home, those two players are both far smaller than Mayo — the kind of guys that he should have a supposed advantage over with his superior height and wingspan.
Just to get all of the cards out on the table: I don't dislike O.J., but I won't be sad to see him on another team. I wasn't a fan of him in college, I didn't want us to draft him (or trade for him on draft night), and I continue to not understand his insistence on playing a position that he doesn't have the required skills for. He had a clearly defined role on this team for the majority of the past two seasons: primary bench scorer. Yet, he seemed to practically refuse that role on many occasions for reasons known only to him.
O.J. is a prodigious scorer with a solid three-point shot and great athleticism. He is certainly good enough to be a starter on many teams, including the Grizzlies. However, there are times when a player who is good enough to start is better served to come off the bench for the best interests of THE TEAM. Because it is THE TEAM that wins games, series, championships, not A PLAYER. For whatever reason, this never seemed to jibe with O.J.'s agenda. So be it.
Worst comes to worst, Mayo will sign with another team this off-season as a free agent and the Grizzlies will have nothing to show for it but 4 years of highlights of him in a Memphis uniform. Best case scenario, Chris Wallace manages to get a couple of draft picks or a promising young player for him, although I won't be holding my breath waiting on that to happen just because of the logistics involved in a sign-and-trade. In any event, the financial situation makes me believe that Mayo is headed out of town sooner, rather than later. If and when that happens, I won't shed a tear.
The news that assistant coach Dave Joerger is interviewing for the Charlotte Bobcats vacant head coaching position does give me reason for pause though. I wish Dave the best, but I think that particular job is as dead-end as it gets, given the roster, ownership, and fan support there. I hope he doesn't get it — for his own sake. Let Patrick Ewing or Brian Shaw take on that disaster.