TIME: 8:00 PM CST, Friday, May 13


LOCATION:

FedEx Forum, Memphis, TN
Memphis(2-3)has their backs against the wall for the first time in the year's playoffs.The team that made Heart, Grit and Grind arallying cry during the final months of the season and who shocked the world with their victory over the San Antonio Spurs must somehow overcome a heart-breakingtriple OT loss and a blowout in OKC and right the ship or go fishing. Quitters has never been a wordto associate with this year's Grizz team and the team didn't quit in game 6. Rather they simply ran out of gas. The team needs toeitherfind a way to refill the tank orfind another energy source ifthey are to force aGame 7. Zach Randolph in particular looked gassed in Game5 and deinitiely not thebest PF in the league. Marc Gasol worked hard and was effectivein the 2nd half but he has to come out ready to play from the opening tap. Mike Conley needs tofind his shot as do all of theGrizzlies perimeter players. The Grizzlies can win. The question now is not can they but do they wantto bad enough. In Game 5they didn't act like they did.
Oklahoma City(3-2)celebrated like they won the NBA Championship in Game 6. If Memphis has to regain the confidence and toughness thatgot the team to this point then OKC hasto regain the focus and determination that got them here as well.The blowout win aside, this series has been close and the Thunder will need to refocus their energy and play with the attitude that they don't want to return home for a game on Sunday. Russell Westbrook and Kevin Durant had plenty of time to rest Wednesday night but chose to spend that time on their feet, waiving towels and riling up the crowd. How well that translates to their play on Friday night could go a long way toward seeing how far the team can go in the playoffs. The team lacks the experience but not the talent to win it all this year. If they can contain their immaturity going forward that is.
Position Breakdown:

Point Guards:Mike ConleyvsRussell Westbrook
Westbrookhasanswered the challenge fromMike Conley and raised him in the last two games. For Memphis to have any chance Conley has to get back to performing at least as well if not better thanWestbrook. Conley is undersized but as fast asthe Thunder PG and makes better decisions with the ballin most instances but if he fails to find his perimeter shot and is unable to force Westbrook to take more perimeter shots thenthe Grizzlies have a much smaller window for success in thegame much less the series.
Advantage: Oklahoma City

Shooting Guards:Tony AllenvsThabo Sefolosha
Thabo Sefolosha finally found a way to make a noticable impact in the series. His 6 rebouds in only 16 minutes of action Wednesday night helped restrain the Grizzlies hot start and allwoed the Thunder to eventually run away from the misfiring Grizzlies. Tony Allen has started the last two games red hot but hasn't been able to contiue that pace into the 2nd quarter and that has hurt the Grizzlies as much as anything. Sefolosha was the only starter with a non-positive +/- number but he did a good job of holding down the Grizzlies defensively. Allen has to find a way to get into the passing lanes, make some perimeter shots and most importantly finish when he gets to the rim in Game 6.
Advantage: Memphis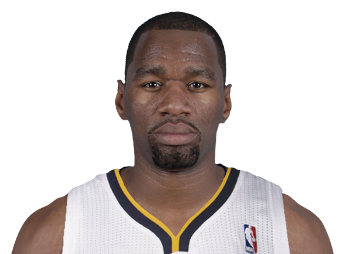 Small Forwards:Sam YoungvsKevin Durant
Former 2nd round pick Sam Young hasn't contributed much in this series. He has been outclassed by both Kevin Durant (a formersecond pick in the draft) and James Harden (a former 3rd pick in the draft)but his +/- number was the best among the starting five in Game 5. Young isn't a prolific scorer in the Grizzlies offense butheplays solid defense making his man work for his shot. If he can ever develop a moreconsistent perimeter offensive game he will be verya very effective bench player for the Grizzlies once Rudy returns from injury. Durant isthe best scorer in the World so you can't stop him but the Grizzlies have done a goodjob of containing him for the most part.
Advantage: Oklahoma City

Power Forwards:Zach RandolphvsSerge Ibaka
Serge Ibaka has played 38 minutes in the last two games combined.ZachRandolph followed his 56 minute marathon with a 36 minuteeffort in the blowoutWednesday night. That explains everything about Game5's numbers. The question now is can Randolph recapture theperformancesfans saw against San Antonio and in Game 1 at OKC. He was a shell of that player Wednesday night. Ibaka has struggled with fouls against Z-Bo but the potential from this player is undeniable. In a year or two Ibaka may bein the discussion for Defensive Playerof the Year and rankjust behind Blake Griffin as the best PF in the Western Conference. That day isn't today however.
Advantage: Memphis

Centers:Marc GasolvsKendrick Perkins
Kendrick Perkinshouse just may have salvaged the Thunder's season and buried the Grizzlies. No I am not calling the physical center for the Thunder a house either.I mean his actual house. That is where he hosted a player's only meeting after Game 1's blowout. Since that time the Thunder has won 3 of4 games and had a double digit lead in the fourth quarter of the only loss. Perkins isn't a big stat number guy but the man can eat space in the paint which is where the Grizzlies want to operate. MarcGasol was the onlyGrizzlies starter who seemed able to shoot theball over the front of the rim in Game 5but even his rebounding numbers weresub-par. Kendrick managed to play the 2nd half without pickin gup a foul mainly because he didn't have to play much in the second half. 'The Scowl'hasn't been dominating but he has been very effective in this series. Gasol has been better butthis wasn't the clearcut win most Memphians hoped for in the series.
Advantage: Memphis

Benches:MemphisvsOklahoma City
I haven't beenright about the bench matchups this entire series. When Ipredict the Grizz bench tostep up they fall on thierfaces (like last night). When I predict them to fail they play fantastic. In an effort toinfluence the remaining game(s) I am predicting the Thunder's bench will prevail. JamesHarden hasn't been as noticed as Tyreke Evans andStephen Curry, two players drafted after him in last season's draft, but he is still playingmeaningful games right now and making huge contributions along the way. Nick Collison has played fantastic defense against Z-Bo. Dequan Cook was red-hot on his home court again and the combination has been overwhelming for the Grizzlies. Darrell Arthur's injured thumb has clearly causedhim problems.Shane Battierseems to have lost his perimeter shot. O J Mayo didn't have hisshotfalling in Game 5 when the Grizzlies needed him to give them a lift too. Hamed Haddadi and Greivis Vasquez looked like two players that didn'tget a lotof PT during the season too.
Advantage: Oklahoma City
Other Commentary:
Daily Thunder– a member of the ESPN TrueHoop Network
Beyond the Arc
Grizzed by VanJulio
Straight Out of Vancouver
David Loves the Grizzlies
Grizzlife