Who: Memphis Grizzlies vs Denver Nuggets
When: Friday, March 15th, 8:00 PM CST
Where: Pepsi Center, Denver, CO
Records: Memphis (44-19), Denver (44-22)
Media: Sportsouth, 92.9 FM, 680 AM
Forums: 3 Shades of Blue, Grizzlies Message Board
Memphis is on top of the world right now. Literally and figuratively. The Grizzlies take a trip up to the Mile High City tonight, riding a "high" of six straight victories, the last of which being a profound vengeance victory against the team that ousted them from the playoffs last year. The Grizz have won 14 of their last 15 games, comprised of win streaks punctuated only by that tight loss against the hottest team in the league. Wednesday's win had to have felt good, but the road ahead is still long, as tonight opens up the third straight back-to-back set.
Denver hosts the Grizzlies tonight in what will be these teams' fourth and final matchup of the regular season after getting the better end of two of the first three. Keep a close eye on this one as they could very well be a team that our Grizz square off against in the playoffs. Depending on who you ask outside of Memphis, the Nuggets are arguably the hottest team in the Western Conference. After a somewhat stagnant start to the year, George Karl has gotten his players to figure themselves out, and the result has been astounding. They're riding a 10 game winning streak and most recently stomped the Knicks flat in Carmelo's return to the Pepsi Center. They are killing the league with points in the paint via putbacks and a breakneck pace. For the Grizz to stand a chance they will need to slow the game down.
Expected Starting Lineups:
Mike Conley vs Ty Lawson:
*Matchup of the Night* – Conley is looking more and more like a true leader at the helm of this team, as he is averaging 17.5 ppg and 11.25 apg over the course of the last four. More impressive and encouraging is that his performance came against Chris Paul on Wednesday, showing that he's not afraid to take it to big time players, which has proven especially useful late in games. It's also notable that the last time he had a game without a steal was on November 14th. Lawson has been fantastic this season. His shooting percentages are down this year, likely as a result of an increased usage rate, but in the recent stretch he's been over 50% from the floor in all of his last six games. The Nuggets rely on his lead to get their pace established the same way the Grizzlies rely on Conley to control theirs. It's very likely that this game comes down to who wins this position battle. I'm sure I seem like a homer, but since Lawson is averaging 8.3 points, 3.3 assists, and 32.3% shooting in 33 minutes a game against the Grizz this season…
Advantage: Memphis
Tony Allen vs Andre Iguodala:
Iguodala is a defensive wizard. He's a smart player who has the athleticism to back it up. The thing is, the Grizzlies don't really have a go-to perimeter player for him to lock down, so his value is mitigated to some extent. Conversely, the same cannot really be said for Allen, because Iggy can in fact go off offensively as evidenced by his scoring 20+ in nine contests so far this season.
Advantage: Denver
Tayshaun Prince vs Danilo Gallinari:
Gallo can cook it from deep on occasion, but by and large his jumper is in that Rudy Gay territory in terms of its shakiness. The difference is that Gallo compensates for it by getting to the free-throw line like a champ. He and teammate Ty Lawson sit at 19th and 20th in the league, respectively, in free throws attempted. Tayshaun was possibly the hero of the last back-to-back set, with some clutch shooting in Portland and absolute abuse of Matt Barnes in Los Angeles. Defensively he has been great as well. In two meetings with the Nuggets while he was with the Pistons, he held Gallinari to a combined 6-24 shooting. I'm starting to see a pattern here… Prince's ability to force his matchup to inefficiency is looking Tony Allen-like if I may say so.
Advantage: Memphis
Zach Randolph vs Kenneth Faried:
Zach-attack returned to action in the last back-to-back, with mixed results. The statlines have been good, but judging by the eye test, he might still be a bit hobbled. This doesn't figure to be too good with an assignment against Faried looming in the balance tonight. Faried is a "Mr. Double Double" in his own right, and while he, like Zbo, is undersized, his spectacular motor and athleticism allow him to play above the rim. Few forwards in this league work as hard on the boards as Randolph, but Faried may be one of them. I equate their match to something of a bull vs. a gazelle. You need all of the mobility you can get against a high energy guy like Faried, so with Zbo at even a shade below full strength, I worry about this one.
Advantage: Denver
Marc Gasol vs Kosta Koufos:
Koufos's numbers are fairly pedestrian, but he is not to be overlooked. His defense is pretty good, and he's an intelligent player on the offensive end. It's going to sound like I'm doing exactly what I recommended against from here on out though, because I'm going to follow with how incredible Marc Gasol has been. With Rudy gone and Zach out for a stretch, Marc has looked to assert himself unlike we have ever seen him before. In the process he has looked like a very legitimate candidate for the title of best all around center in the game. He has scored over 20 points in six of the last eight games, and cracked the 5 assist mark in five of them. Whether it's hitting a deep elbow jumper, feeding a cutter, or setting hard screen for Conley, it seems as if Marc has been involved on nearly every successful trip down the floor in some capacity or other.
Advantage: Memphis 
Benches: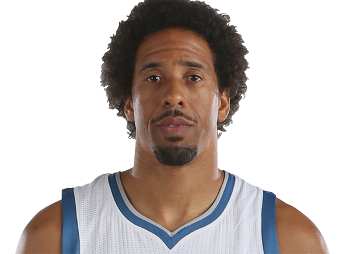 The Nuggets bench is just stocked with so many good options who are viable to do some serious damage against the Grizzlies on any night. Starting at the one spot, Andre Miller is one of those heady, capable veteran presences at the point guard spot that could badly exploit Jerryd Bayless. Beyond Miller, the Nuggets boast Corey Brewer and Wilson Chandler on the wing, who are two incredibly long and disruptive swing options. Chandler is a swiss army knife guy who can also put points on the board in bunches. He went off for 24 against his former team, the Knicks, on Wednesday. Finally, you've got the enigmatic center, Javale McGee. For every George Karl headache he causes, he blocks a shot, hauls in a rebound, or throws down an improbable dunk. His ridiculous length and freak athleticism make him a nightmare match for the Grizzlies' frontline. Enter Ed Davis, who could go a long way in making a difference for the Grizzlies tonight. His own combination of length and athletic prowess gives him something that the Grizz have lacked in previous games against this Nuggets team and may make a world of a difference.
Advantage: Denver
Opponent Views:
Roundball Mining Company