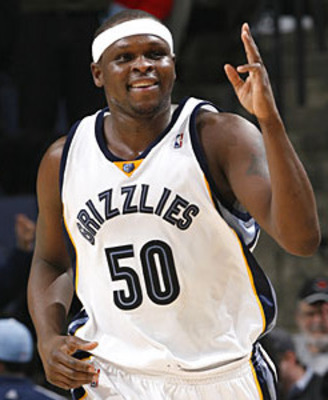 Memphis is getting a reputation as a destination for players needing to change the path their careers are on.
So far the reputation has worked wonders for players and team alike.
Consider that Zach Randolph, Marreese Speights, Dante Cunningham, Gilbert Arenas, Quincy Pondexter, Tony Allen and Jeremy Pargo all were released, unplayed, unwanted or undrafted before coming to Memphis. The reputation seems fitting and more importantly is growing around the league.
Memphis has always been a city willing to give players second chances. Jeremy Hunt received a lot more than two chances when he was with the Tigers after all and he is still remembered fondly by fans.  So it is no surprise that Memphis' pro franchise is starting to see an increase in reclamation projects heading to town looking for jobs.
Now not all of the reclamation projects have succeeded. Allen Iverson was a disaster, Tarence Kinsey fizzled out fast and who can forget (or should I say remember) Cezary Trebanski?
So Memphis hasn't been perfect but the important thing to remember is the Grizzlies not only understand how to make their team better using other people's throw offs. The team also knows to cut those losses short. Memphis gives you a chance but the leash has limits and once reached you are gone. The Grizzlies accept other people's problems but they don't hold onto the problems for long if the team feels it isn't working out.
For a city that won't likely attract too many high-profile free agents, this strategy of cheaply acquiring other people's problems seems to have merit.
This season the Grizzlies purchased Marreese Speights from Philadelphia for a 2nd round draft pick, then shuttled Xavier Henry (a disappointment while in Memphis) to New Orleans to clear cap space for Speights. When Speights arrived in Memphis he hadn't played in a game for Philadelphia and the city was ecstatic to be rid of him. The lead writer at Philadunkia.com, an ESPN TrueHoop blog, was surprised Philly was able to get two 2nd round draft picks for him. Speights today is looking like one of the bigger free agents available this summer. If the Grizzlies wanted, and were able to, trade him they likely would get a lot more in return today.
Dante Cunningham and Tony Allen both were free agent pickups that Memphis signed for very little money. The combined $5 million in salary is below the mid-level exception in the NBA. Still their former teams decided against matching the Grizzlies offer. Today Allen is considered one of the premier perimeter defenders in the league and Cunningham just put up a double-double against Kevin Love. Do you think Boston and Charlotte regret their decisions about now?
So now the Grizzlies signed free agent Gilbert Arenas who Orlando released before the season began. Whether this signing works out like Zach Randolph or Allen Iverson is still unclear. Arenas is not in game shape and doesn't know the offense or defense. How long it will take him to get up to speed and earn a spot in the lineup hasn't been determined if he is able to do that at all.
That's not important however.
What's important is that players are starting to look to Memphis as a place to resurrect a bad reputation. They are wanting to come to the Bluff City to change their career path. Memphis is no longer looked at as a place to avoid. Instead, players are looking at the Grizzlies as a team veterans want to come to. Not every reclamation project will work out but Memphis' front office has shown a willingness to give veterans a chance and the intelligence to cut their losses short when it is not working out.
The change in players perspective should pay the Grizzlies dividends for years to come as well.