A few weeks ago, as news broke that the Grizzlies would not be offering Lionel Hollins a new contract, I urged you all to fight against the lazy narrative that would be thrust upon you. The narrative is simple: (1) ownership is cheap, (2) ownership wants a "yes man", (3) hiring Joerger is an attempt to sell continuity, (4) the other candidates/interviews were a sham, and (5) they should have hired someone with head coaching experience. Now that Dave Joerger has been selected to replace Hollins, the unindustrious are once again lazily beating these drums. My goal here is to evaluate each of these propositions.
Maybe it is bitterness over someone else scooping the official hire of Joerger. Maybe it is bitterness over the trade of Rudy Gay and dismissal of Hollins. Maybe it is remnants of a blood-oath dedication to Michael Heisley. Whatever the reason, Ron Tillery has made it his mission to cast the Grizzlies new leadership in a poor light. The body of work over the last few weeks – in print, on the radio and even in one awkward television segment – has hinted at short-sighted, cheap and even racially motivated coaching decision. Having read Ron's take on the Joerger hire this morning – the one that was replaced on the Commercial Appeal website in the middle of the day – it is hard to believe the same person said this just two weeks ago:
Hollins is out. People should move on. New management has the right to do whatever But character assassination is irresponsible and juvenile

— Ronald Tillery (@CAGrizBlog) June 11, 2013
Indeed. Character assassination is irresponsible and juvenile. Nonetheless, the news of Joerger's hire (as first reported by a reporter not named Ron Tillery) prompted Tillery to link to his post-game article about Joerger's one-game tenure as interim head coach in November 2010:
Joerger's one game as head coach of the Griz: http://t.co/ZBG0xWpeOa

— Ronald Tillery (@CAGrizBlog) June 25, 2013
When asked by one of his follower what his point was, he said he was just reporting the facts. Before you ask, it is unclear whether this Twitter exchange was before or after Tillery's Twitter blocking spree. (#TilleryBlockedClub 4 life)
While that tweet may indeed be "just the facts" Tillery's first crack at the Commercial Appeal story was not. It is a shame I can't find an archived version of the original Commercial Appeal article on the Joerger hire, penned by Tillery. The current version is relatively professional and unopinionated. Sadly, without the original, I can only summarize from memory. Essentially, Joerger got the job because he was the cheapest option and because he will follow orders from Management. Joerger's only NBA head coaching experience was when he filled in for Hollins against Phoenix, losing in double overtime after blowing an 18-point lead. Also, Joerger's reputation is undeserved because the entire defense was Hollins creation. Tillery even pulled a Fox News, using the phrase "critics may say…" so as to somehow distance himself from the fact that he is the source of the negative analysis. Does that sound like "just the facts" to you? Sergeant Joe Friday he is not.
I digress though. I didn't set out to write a piece about Tillery being a hack journalist. That is another post for another day. Instead, I want to share my thoughts on the Joerger hire.
First, I flatly reject the idea that Joerger got the job because he was the cheapest option. Obviously a first-time head coach is going to command a lower salary than someone like George Karl, but Bulls' assistant Ed Pinckney and former Suns' coach Alvin Gentry could likely be had for roughly what Joerger will earn. The new ownership did not make a $360,000,000 investment in this franchise to sweat over a few million dollars in coaches salaries. If they're going to be cheap, it is with player contracts that impact the salary cap figure and could result in increasingly punitive luxury tax bills. Coaching salaries do not count against the cap. This line of argument also assumes that spending more money equals hiring a better coach. The biggest "leap of faith" that any Grizzlies fan has to take here is that management truly believes in Dave Joerger – a notion that is hardly outlandish, considering the high praise he has received from all over the basketball world. Paying a coach more money is no more a guarantee of success than is paying a player more money.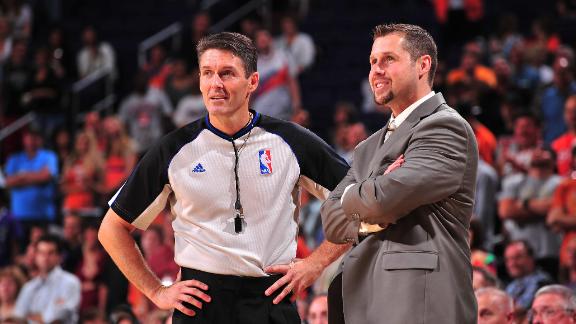 Second, the suggestion that Joerger is a "yes man" is entirely without substance. As far as I can tell, the only person to "report" that Joerger will allow the front office to dictate how he coaches the team is Tillery. Most importantly, when did it become a negative for someone to work cooperatively with their boss? Has our culture become so entitled and resistent to authority that we commend those who defy their employer's wishes and condem those who are team players? We're not talking about someone "just following orders" from the Axis in World War II here. We are talking about a professional sports franchise with a vision for how they want to (hopefully) contend for an NBA championship. Do you really believe that John Hollinger and Co. will be calling down to Joerger during end-of-game timeouts to tell him who should take the last shot? Of course not. More importantly, is there a single shred of evidence to support the idea that Joerger is "bobblehead" as some on Twitter have suggested? I've never seen any facts supporting that assertion.
Third, hiring Joerger is not about selling continuity. If management was concerned about continuity, Rudy Gay would still be on the roster and Hollins would still be the head coach. If anything, the new management has shown that they are not afraid to disrupt the status quo and indure negative publicity if they feel that a particular decision will help them realize their long-term goals for this team. As an aside – and I am saddened to even address this – there is no grand conspiracy to tank the franchise so it can be moved out of Memphis. I heard a caller on Sports56 suggest that the ownership is Rachel Phelps, the showgirl turned owner of the Cleveland Indians in Major League, who tried (and failed) to tank the team so she could relocate to Miami. That is absurd, folks. I'll even put my money where my mouth is. Go ahead and retweet and/or repost this article. If, on June 25, 2023, the Grizzlies are no longer in Memphis, I will give everyone who retweeted/reposted it $1. I suspect my future earnings are secure.
Fourth, I do not think that the Karl, Pinckney and Gentry interviews were a sham. I suppose that 10 years of Heisley leadership has lead some to believe that every decision should be made quickly, on a whim and with as few decision-makers as possible. That process nets you Hasheem Thabeet. That process leads to Rudy Gay signing an $82,300,000 contract. The new Grizzlies leadership has surrounded itself with knowledgeable people from different parts of the basketball universe, each of whom brings a different perspective to the discussion. They've shown that they will conduct their due diligence before making big decisions. The interview process not only gave them an opportunity to fully evaluate numerous coaching options, but also to get more input from relative outsiders about the state of the franchise and roster. Perhaps they did know from the start that their preference was to promote Joerger, but this was not an exercise in misdirection and chicanery. The best science comes from the vigorous testing of a hypothesis. Within the laboratory of running an NBA team, if consideration of other coaching options strengthened a belief that Joerger was the right guy, then it was time, money and effort well spent. Remember, the idea here is to hire the right coach now so you can avoid the three-year hire/fire cycle that so many teams experience. Why not take a few weeks, talk to different people and then make the choice you believe is best?
Lastly, I reject the idea that the fact that Joerger has never been an NBA head coach is problem. In college sports, particularly college football, people are always chomping at the bit to hire rising-star assistants. Sure, at any level there are plenty of rising-star assistants that fail miserably. See e.g., Derek Dooley, Marc Iavaroni. However, with the exception of folks like Marc Jackson and Jason Kidd, most NBA coaches cut their teeth as assistants before claiming the big chair. Does that mean that Joerger is the next Popovich? No. But the suggestion that he is the next Iavaroni is equally as unfounded. Unlike many assistant-turned-head coaches, however, Joerger has been a head coach at various minor league levels where he happened to have significant success. As in "5-championships-in-7-seasons" success. But you prefer Alvin Gentry because he has been fired from three NBA head coaching jobs? I'll take new blood over retread.
There you have it – my response to the themes that permeate the bitter, lazy narrative about the Joerger hire that has been advanced by some members of the media and parts of #GrizzNation. Could the Joerger hire turn out to be a disaster? Certainly. But doesn't this city love an underdog? Either way, the deed is done. For fans, things are much simpler now. Now you have to hope that Management is right. Now you have to hope Joerger is ready. Hasn't that really been what this movement has always been about? Hope? Belief? After all, considering everything we have experienced over the last three years, believing should come naturally.
Grind on, Memphis.