The home team is down by 1 point, mere seconds remaining on the clock. The chaos of your typical late-game inbounds play unfolds. Suddenly, inexplicably, the star player darts freely into the open space and gathers the hastily thrown pass in his direction. Barely taking any time at all to collect himself, he uses one hard dribble to avoid the incoming defender, rises and fires…
If that shot goes in, then said player is deemed "clutch" by most fans, media, coaches, and fellow athletes. Sometimes, even if it doesn't, he's lauded for being willing to "take the big shot". However, is that what clutch really means?
clutch adjective
Definition of CLUTCH
1: made or done in a crucial situation
2: successful in a crucial situation
Based on those definitions provided by the Merriam-Webster dictionary, it appears that most sports fans are using clutch correctly in describing such a scenario. Is that the only time it is appropriate though?
Everyone recognizes the "clutchness" of players like Michael Jordan, Larry Bird, Magic Johnson, Reggie Miller, LeBron James, Carmelo Anthony, and Kobe Bryant when it comes down to one of those classic "less than a minute to go, one-possession game" moments. There are even clutch statistics provided by NBA.com and 82games.com, among others, to help quantify said "clutchness". Robert Horry, Derek Fisher, Steve Kerr, John Paxson — these are guys who became household names not as superstars or even All-Stars, but as guys who thrived in the big moments late in playoff contests, when the stakes were the highest. Those are the times when it is easy to label someone "clutch" and everyone can agree with it.
What prompted this was a discussion started by @JonesOnTheNBA (who, if you aren't already following, you are truly missing out) where he pondered just why some people still don't see LeBron James as clutch. For the record, even though I still lean more towards the traditional definition of clutch most of the time, I thought he and the people he re-tweeted made excellent points about this situation.
Reggie Miller's 8 points in 9 seconds in the 1995 Eastern Conference playoffs against the New York Knicks in Madison Square Garden is one of the gold standards for clutchness. If you haven't already seen it, (first — what have you been doing with your life? second — you call yourself an NBA fan?!?!) check it out.

You even heard Bill Walton utter the word under discussion when talking about John Starks' inability to hit free throws: clutch. By any definition, that is clutch. What else is clutch?
How about scoring 29 of your team's last 30 points, including 25 straight and 48 overall in a pivotal Game 5 of the playoffs against the former conference and NBA champs that went to overtime? Sounds like something out of a poorly conceived movie, right? Nobody does that in real life. Except that's exactly what LeBron James did in the 2007 Eastern Conference playoffs.

Clutch is not just about the closing minutes of a game. It is about doing what must be done "in a crucial situation". A crucial situation can be as long as one possession, one quarter, one game, or even an entire series. What happens then, is that clutchness then becomes transcendent and transforms itself into what we know as greatness.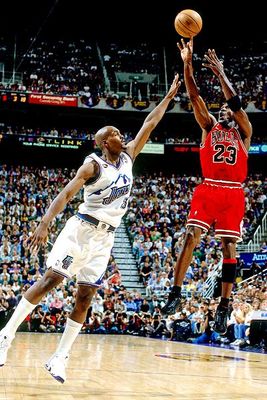 That's why guys like Jordan, Magic, and Bird are who they are in our minds — because their clutchness translated far beyond just the final moments of singular games. There is nothing more clutch than putting a team on your back and carrying them to a win that they surely would not have achieved without your efforts. So, for those who would deride a player like Kevin Durant for "failing to come through when it mattered" against the Grizzlies this summer — remember where that team would have been without him. For those that doubt LeBron James — 37 points in Game 7 of the NBA Finals is as clutch as it gets.
If we judge players only by what happens with 10 seconds or less left in the game, then nobody — not even Jordan(50% on clutch attempts in the postseason) — was close to being perfect. Just something to keep in mind the next time you're hanging around the digital water cooler and talking about who is or isn't clutch.