According to O J Mayo's personal twitter account, later confirmed by Marc Cuban's, O J Mayo has signed a contract with the Dallas Mavericks.
This is good news for Mayo who has been traveling around the country looking for a place to play this season.
Memphis is losing their first player considered a superstar. Regrettably Mayo never developed into that type of player here in Memphis. 
Mayo is suspected of signing a two year deal with Dallas worth no more than $4 million a season. That is the amount Dallas had left to sign a free agent after acquiring Elton Brand, Chris Kaman and Darren Collison this summer. It is a peculiar location for Mayo to end up since the Mavericks already had a new PG in Collison and Mayo had made it clear that he wanted to play PG this coming season. The Mavericks also used a trade to acquire the 34th pick in the draft. That pick was used to draft Jared Cunningham, a shooting guard from Oregon State.
Mayo travelled to New York (who decided to trade for Raymond Felton), Phoenix and Chicago at least before signing with the Mavericks.
Mayo's time in Memphis was a tale of professionalism and frustration for both Mayo and the fans. Mayo was asked to play shooting guard in Memphis despite his over-riding desire to be a point guard in the league. He took to the position change well at first, pairing with Mike Conley to give the Grizzlies a dynamic young but undersized backcourt tandem. Mayo's rookie year saw him runner up to Derrick Rose for Rookie of the Year averaging 18.5 ppg and 3.2 assists per game.
Mayo's second season was not what many fans expected. Despite shooting a higher FG% his scoring dropped to 17.5 ppg and his assists declined to 3.0 apg. Not large drops by any means but disturbing after his rookie year. The summer following his second season Mayo tried his hand playing PG in the summer league with disastrous results and was among the first cuts for the World Championship team that teammate Rudy Gay made.
Trouble, long suspected of brewing beneath Mayo's skin, finally went public on media day before the start of Mayo's 3rd season when Coach Hollins said that Mayo was strictly a scorer and would not see time as a PG. Mayo, when his opportunity to take mike came, retorted that he was used to dealing with criticism and he would prove the coach wrong. The clear divide between the coach and player was fully out in public now. Just 9 games into the season Mayo was moved to the bench to make room for Xavier Henry and later Tony Allen.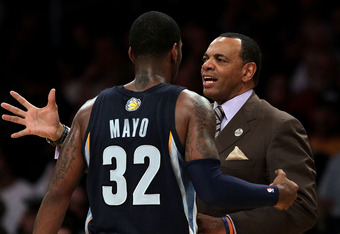 Mayo's scoring continued to slide in his 3rd season, dropping to a career low 11.3 ppg while shooting a career low 40.7% from the field and a career low 2.0 apg. He found some redemption in the playoffs that season but still averaged only 11. 3 ppg and shot 38.8% from the field. It was before the trade deadline that the Grizzlies, long rumored to be looking to trade Mayo, had finally reached a deal to move him to Indianapolis for Josh McRoberts and Brandon Rush. The deal reached the league offices just after the deadline so Mayo continued with the team.
Mayo's final season in Memphis started with Mayo shooting well averaging over 44% from the field in December and January. That shooting didn't hold up and Mayo finished the season shooting 40.8% from the field and scoring only 12.3 ppg. Mayo's slide accelerated in the playoffs where he struggled against the Clippers high pressure defense.
Mayo will always be loved in Memphis for his professionalism and star potential. Regrettably he never reached that potential with the Grizzlies.