Who: Memphis Grizzlies vs Minnesota Timberwolves
When: Sunday, February 10th, 5:00 PM CST
Where: FedEx Forum, Memphis, TN
Records: Memphis (31-18), Minnesota (18-29)
Media: SportSouth, 92.9 FM, 680 AM
Forums: 3 Shades of Blue, Grizzlies Message Board
Memphis snagged a much needed W in what was a very good game end to end against the Warriors, Friday night. What a fun game that one was to watch. Marc Gasol was a real difference maker on just about every possession down the stretch. His saved possession with the long tipped out rebound was beautifully characteristic of the kind of night it was for the Grizzlies. Additionally, Jerryd Bayless has been continually excellent, Austin Daye shot lights out in the first half, and Tony Allen, in typical Tony fashion kept us on the edge of our collective seat until the wire, for better and for worse. Looking ahead to tonight's matchup and beyond, the Grizz have been blessed by the NBA powers that be with two very winnable matchups at home heading into the All-Star Break. As long at they don't take them lightly, the Grizz have an excellent chance to end the "first half" of the year on a good note.
Minnesota has come upon some real bad fortune after entering the year as a sexy pick for finally getting "over the hump" and into the playoffs. The recent injury of Andrei Kirilenko factors another bit of bad news into the Timberwolves mix, but in the words of Albert Brooks' character in the movie Drive, "it's not bad news… it's bad luck." Kevin Love and Ricky Rubio have both missed significant time this year nursing injury, and Minnesota has had a tough time taking off without them in the lineup. In addition, they've missed Brandon Roy, Chase Budinger, and Malcom Lee due to knee injuries. Needless to say, it's been a rough go of it, and while Ricky Rubio's return is a bright spot, it has taken him a bit to get back into form.
Expected Starting Lineups:
Mike Conley vs Ricky Rubio:
As I mentioned above, Blond Ricky is back in the mix for Minnesota, but it's taken him a bit of time to get his game back up to NBA speed. Recently, however, he's been looking like the Rubio of old. He hasn't shot the ball incredibly well, but that's never been his strong suit to begin with. He is, however, averaging 12 assists and 2 steals over his last three games. Mike Conley dished out 10 assists of his own in the last one, but has been very hit or miss lately, and is overmatched against Rubio in the size department.
Advantage: Minnesota
Tony Allen vs Luke Ridnour:
Luke Ridnour had 20 points in his last outing, but he didn't have Tony Allen guarding him. Allen has been a consistent source of effort throughout all of the uncertainty surrounding the team, and while the occasional offensive blunders drive us mad, the good generally outweighs the bad. Pretty much every game for the Grizzlies begins with a Tony Allen 15-20 footer, and the last game was all TA for the first few possessions. I don't usually talk about Tony's offense as a factor, but I don't think that Luke Ridnour is going to be able to keep him away from the basket.
Advantage: Memphis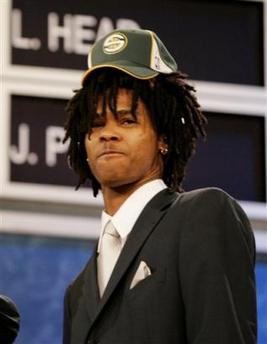 Tayshaun Prince vs Mickael Gelabale:
Tayshaun Prince is an 11th year NBA vet, with a pretty darn good career to speak of. Mickael Gelabale was just retained for the season off a 10-day contract. Not to his discredit, but there's not much of a comparison.
Advantage: Memphis
Zach Randolph vs Derrick Williams:
Another #2 overall pick that has failed to live up to the lofty expectations that the title would suggest. Derrick Williams has been an okay player overall. He's kind of produced when he has gotten a lot of minutes, but he can also go out there and give very litle. With Kevin Love out for most of the season thus far, it was DWill's time to shine, but he never stepped up to really answer the call. Zach Randolph went cold again, offensively, against the Warriors, but he should take full advantage of his matchup tonight against the foul prone Williams.
Advantage: Memphis
Marc Gasol vs Nikola Pekovic:
Marc Gasol was absolutely phenomenal Friday night, against a very good center in Andrew Bogut. Tonight he's set to tangle with an unheralded, but darn good Nikola Pekovic. Pek has been doing all that he can to keep the Wolves above water, and while he hasn't exactly come through on that objective, he has individually been putting together a fantastic season. His game is not as well versed as Gasol's, but he could outplay Marc on any given night.
Advantage: Memphis 
Benches:


Grizzlies fans: not that you need me to tell you this, but don't be afraid to let out a big loud cheer for Dante Cunningham in his return to the forum! Dante is one of the most grind-ready players, who makes it nearly impossible to root against him. He plays the game the right way and leaves it all on the floor. He's joined on the Wolves' bench by guards Alexey Shved (who reportedly flirted with the idea of signing with Memphis in the offseason) and JJ Barea (who has given the Grizzlies fits in the past). Due to all the injuries, Minnesota is not a very deep team at the moment. The Grizzlies bench on the other hand is a wild card, but hasn't looked this good since the beginning of the year with the "Zoo Crew." Jerryd Bayless has been unbelievable of late, while Austin Daye and Ed Davis seem to be settling in a bit.
Advantage: Memphis
Opponent Views:
A Wolf Among Wolves