Everyone and their second cousin's  girlfriend's roommate has weighed in on the trade that sent Rudy Gay (and Hamed Hadddi) to Toronto on Wednesday. The fans are elated, disappointed, understanding, or apoplectic.  The media thinks it's a great move or that it's clearly a bone-headed deal. The local media seems mostly in favor of the deal, but not overwhelmingly so. The writers for this website are likewise somewhat split on what to think about it, although most of us are coming around on it.
Of course, one of the ways to fairly judge something like this is to get as much information about it. With that in mind, we turned to Steve Kyler, the Editor and Publisher of HOOPSWORLD covering the NBA and basketball for USA Today. Check him out on Twitter : @stevekylerNBA.
What makes Kyler any different than other members of the basketball media? Well, for starters, he recently spent time in Memphis around the team and wrote about them earlier this week. Furthermore, he's also someone who knows Rudy Gay on a personal level. That's something that has been missing in the analysis of this trade so far.
He was nice enough to answer a few questions we had for him…and wait until you see what he has to say.
3 Shades of Blue: You just spent about a week in Memphis recently talking with players and management. What do you believe Memphis fans should be concerned and/or worried about with this franchise right now?
Steve Kyler: No, they shouldn't be worried at all. I think the Grizzlies have some super smart guys in charge that are going to shape the Grizzlies into a solid – sustainable franchise. They understand how long-term success in the NBA is constructed and that is the goal. They want to win and they want to win every year and that dominates the discussion with them.
3SOB: What do you believe are going to be the strengths of the team moving forward?
SK: The frontcourt and defense. The Grizz are incredibly deep upfront and they can really change the game defensively. I think when you factor in who they are building around in Marc, Zach and Mike and the flexibility they have created for themselves this month; Memphis is in a good position this year and going forward. Prior to these trades Memphis was stuck with this team and would have had no opportunities to add this offseason or replace guys they could lose to free agency.
3SOB: Do you have faith in the "MoneyBall Memphis" philosophy of the management team? Can it really work in basketball as it appears to have worked in baseball?
SK: I think John Hollinger's input is a little overstated. He is one of several voices advising Jason Levien. That said we measure players with stats. Points per game, rebounds per game. Those things matter. Looking for value inside the stats is smart. Most teams do that. Most teams have an advanced analytics guy; Memphis just happens to have one that worked for ESPN and is one of the more known stats guy.
Dallas hired Roland Beech from 82games.com several years ago. Some of the smartest guys in basketball also write about it, especially for sites like 82games.com or Basketball Prospectus. More than a handful of teams tried to hire Hollinger before the Grizz got him. I think it's notable and talked about because John is a known guy and people have heard of him, but almost every team in the league has a John Hollinger-type guy advising them.
I also think when you are Memphis; you need to find some value guys. Look at San Antonio. The answer can't be over pay for talent, sometimes you have to find a diamond in the rough. Sometimes you have to be able to see a Chris Johnson for more than he is with the "eye-test".
I think it is smart to use every tool you can use in making decisions. The great teams do that. The more information you have the smarter your choices can be and that's what Memphis is doing with their front office.
3SOB: Who are the real leaders on the team? Who takes charge in the locker room?
SK: No question – Tony Allen and Zach Randolph. This is their team and if you don't fit with them you are going to have problems. Those two can be aggressive and can be a little bully-like, but they demand that you play hard. They demand that you respect the coach, and they have no fear in calling guys out. Some guys love that about Memphis. I know Marc Gasol does; those guys want to win and don't take crap from anyone. Tony is a little more vocal than Zach, but those guys are the heart of the team.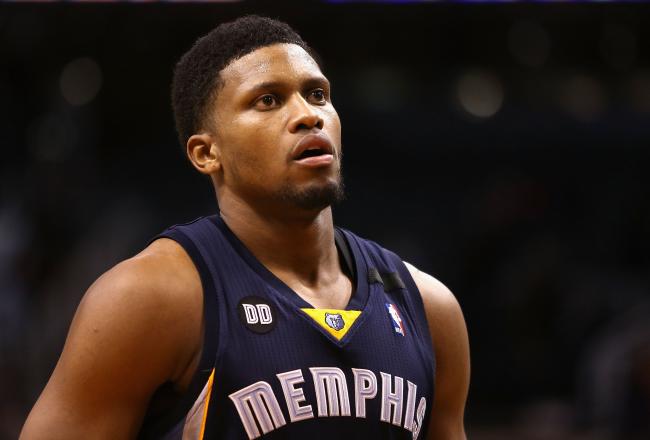 3SOB: What are your thoughts on the three way trade this week?
SK: I start with this concept. Rudy Gay was never happy in Memphis. He wanted more than he'd ever get in Memphis because of how they play. He was third fiddle and wanted more and honestly I don't blame him because he has star-ability. It is kind of like James Harden in OKC… he was never going to be "the man" there.
So if you have to trade Rudy, and Memphis really had to trade him for a lot of reasons, what they got back works when you combine it with the Cleveland deal.
Look at the two deals like this…
Memphis basically traded Gay for Tayshaun Prince. Tay is a better shooter, a better defender and he fits the culture with both the locker room and coach. He is older. He doesn't have the huge upside Rudy does, but he won't need the ball as much either. Rudy averaged something like 16 shots a game. The Grizz are better if some of those shots flow through Marc and Zach. They are higher percentage guys. Tay is also a much better three-point shooter.
You basically traded Marreese Speights for Ed Davis, that's a huge upgrade this year and going forward. Ed could be the eventual replacement for Zach if his body breaks down or he gets injured again. Memphis gets the luxury of grooming Ed behind Zach and Marc and teaching him to play tough and physical.
You trade Wayne Ellington and create two situations. #1 – Jerryd Bayless moves to the two and he has really shown promise there. That wasn't happening if Wayne was there. Jerryd at the two gets Tony Wroten minutes he'd never have seen if JB was the backup to Mike. #2 – It created an opportunity for Chris Johnson. If Wayne was there Lionel doesn't play Chris. It remains to be seen how good Chris can really be, but he's looked good.
You trade Hamed Haddadi for Jon Leuer. Hamed was a fan favorite, but Jon is the better basketball player today and going forward.
You basically trade Josh Selby for Austin Daye. Not sure either are in the big picture for Memphis, but Daye has some upside.
Factor in a second round pick and some cash in the deal that Memphis likely uses to buy a pick in the first round and this is a solid deal and that's before you factor in the Traded Player Exceptions they got in the deal.
They could lose Tony Allen to free agency and now have a $7,489,453 exception from Rudy Gay to replace him if he walks. They also have a $2,083,042 exception from Wayne Ellington in case Jerryd Bayless opts out and walks. Factor in that Memphis gets a full mid-level exception for being under the Luxury Tax and they have three real options to add this summer that they would not have had before these deals and the room under the Luxury Tax next year to use them.
3SOB: You know Rudy personally. Do you believe he was pushing for a trade as Alex Kennedy implied or just wanted an end to the trade rumors in the press?
SK: Yes. Rudy wanted this over for a while. Did Rudy Gay say "trade me today", no. Did the Memphis front office talk with Rudy enough to understand he wanted the speculation and the chatter with his name to be over. Yes. Was it clear Rudy was frustrated with the situation? Yes. Did Rudy make his frustrations known? Yes.
I was never in the room with conversations between Jason Levien and Rudy Gay and would never question either guy's comments on the record. I don't expect anyone in the Memphis front office to share their private conversations with Rudy because everyone involved has a brand and relationships they have to protect, but Rudy wanted out of the situation and kept no secret of that.
I know some will look at that as a negative and it really isn't. Rudy wanted a chance to be the star everyone hoped he'd be in Memphis. It was never going to happen for him with how well Zach and Marc have fit and that meant, like OKC and Harden, Memphis had to trade him and Toronto is a great situation for Rudy.
3SOB: Are Coach Hollins and the front office on the same page? Should fans be concerned about Coach Hollins not having a contract for next year?
SK: I wish I had a good answer for that one. The front office thinks the world of both Lionel Hollins and Chris Wallace. They went out of their way to talk up both guys to me when I did my USA Today piece on them. But Lionel is a tough cookie.
I am not sure how to read his comments other than to say he's a gruff guy that really doesn't pull his punches. Lionel was adored by Michael Heisley and I don't think he is a guy that trusts new people easily. The fact that he doesn't have a contract beyond this year likely adds to that inherent mistrust of a new ownership situation.
Lionel is a great coach. I know that the front office sees that. I know that they have tried to connect and share with Lionel and the staff what's going on and I think that in time they will get to know each other enough to bridge the newness of all this.
Time creates relationships and these guys have really known each other for about 3 months. Lionel had years with Heisley. If you have ever had a boss that you really loved and he really respected you and then he's gone. That's a hard situation to over come.
Keep in mind Lionel not having a contract next year also means Lionel could walk away too. He could go chase a better deal, same with Chris Wallace.
I think now that the business is done and Lionel has more weapons at his disposal I think we'll see if this works.