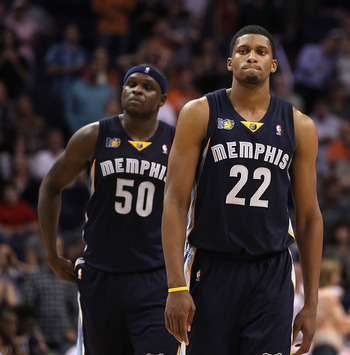 A lot of people are becoming familiar with the name Beckley Mason because he is a man moving up in the world. His ability to see something and relate it intelligently to the reader is fast-moving him up in the world of digital media. Mason, founder and main contributor to the excellent blog Hoopspeak.com, is also a guest contributor on the ESPN TrueHoop website and has also started blogging at the Huffington Post on San Francisco and the bay area street safety. He's even found his way onto the pages of the New York Times.
Now I don't want to downplay the importance of Bay Area street safety and all but that is not why we wanted to talk to Beckley. What did draw our attention to Beckley were two articles he wrote for ESPN's TrueHoop Network. The first was titled "Time to Get the Grizzlies Offense Moving." The second about a week later followed up on the Grizzlies offensive woes "Memphis Grizzlies Need Space." 
These articles were so detailed and so intelligent they made us stop texting pull over to the side of the road and pay attention.
That is a joke people. We don't support texting and driving and frankly get very irritated when and somewhat nervous when we see people on the phone in their cars but that is another issue altogether.
So as is our style, these days at least, we contacted Beckley to find out in a bit more detail what he was seeing in Memphis at that time and if anything has changed since the big trades.
And this is what he had to say…
3 Shades of Blue: In your article "Time to Get the Grizzlies Offense Moving" you open with a discussion of how the Grizzlies walk the ball up the court. Do you feel they do this to allow their big men, Zach Randolph and Marc Gasol, time to get themselves into position or is it something else?

Beckley Mason: I think that's definitely part of why the Grizzlies play at a slower pace than most teams, but I also think that if a team has to concede the first 8 seconds of the shot clock on a ton of possessions — no matter what the reason — it's a problem. I've been enjoying seeing Randolph hustle down court a bit more in the last few games to establish early position because when they can get him the ball in the first 10 seconds of the clock, he has more space to operate and the team has more time to exploit double teams.
3SOB: With the trade of Rudy Gay the Grizzlies have begun to show more offensive pace including 20 fast break points against Minnesota Sunday. To what do you attribute this increase? Is it a change of philosophy or merely a change in personnel?
BM: Someone told me that, in Memphis at least, Rudy Gay ran the floor like a guy jogging back through the parking lot because his wife left her purse in the car. The urgency just wasn't there. So even if Prince is a slower player, if he runs harder he can get up court quickly. But I don't think it's fair to pin it on Rudy, to me the whole team seems more committed to running the floor in recent games.
3SOB: In your opinion will the Grizzlies offense operate more smoothly with better jump shooters like Prince and Daye at the SF position than Rudy Gay?
BM: I do think the offense looks more crisp, and the ball seems a little less sticky and their assist rate has skyrocketed. But I don't think it's a simple substitution of personnel that deserves credit. More precisely, I think Gay is a good enough shooter to play in that role, but that the coaches and Gay were determined to give him opportunities that typically go to the offensive focal point. If you think of Rudy-Marc-Zach as Memphis's big 3, someone had to be the Chris Bosh in that equation. It seemed apparent that Rudy was the Bosh character, the guy who needed to sacrifice shots and his preferred style to make it all work.
Maybe he just wasn't comfortable with that, maybe the coaches weren't comfortable with that.
I don't know.
Certainly a player with a more complementary mindset could help. But to me, moving Rudy offered an opportunity to also re-imagine some elements of the offense — not just changing which player is in Rudy's spot, but where that spot is in the first place.
3SOB: How much of Memphis' offensive woes should be blamed on Zach Randolph's tendency to remain still and hold the ball rather than making cuts and keeping the ball moving?
BM: I think you can have one Randolph or one Rudy Gay, but you can't have two post players who like to hold the ball like that.
3SOB: In your second article, "Memphis Grizzlies Need More Space," you touch on the problem of two dominant big men clogging the lane and not allowing room for players to cut to the basket. Has that problem been addressed with the addition of better perimeter players or is it still a concern?
BM: You want those big boys down low where they can go get offensive rebounds. Gasol and Randolph can both deal from down there, too, so you don't want a situation where one or the other is caught floating on the perimeter. But I've noticed they've shifted things a bit and kept Gasol on the high post or even a little further out, and that seems to be making a positive difference. Gasol has a nice handle and has made some Dirk-esque drives, while his passing and shooting make him deadly when the ball swings through him.
As Gasol moves to the perimeter, they've snuck Tony Allen to the short corner opposite of Randolph when Randolph has the ball down low. I love this because, despite their size and nominal positions, Allen is such a good hustle player and Gasol is a more skilled perimeter player. Moving Gasol out gives Allen the opportunity to use the only space he really can on the offensive end — the immediate basket area.
3SOB: Rudy Gay is incredibly talented but prefers a more open game to the structured offense the Grizzlies coaches prefer.
BM: I'm not sure I agree that Memphis' offense was "structured" as much as it's "stationary." But you're right, Gay will play better in more space and at a higher tempo. He can get those things in Toronto in a way he couldn't in Memphis.
3SOB: Imagine you were a Memphis Front Office member, would you have made the trade to send Rudy Gay to Toronto strictly for basketball reasons?
BM: Wow! This is a really tough question. I think I would, though, because I don't think Memphis could maximize Rudy. So all that talent doesn't matter if he can only access 70% of it. Also, I love getting Ed Davis to eventually replace Randolph next to Gasol and a solid shooter in Prince.
The answer to your question also depends on what you consider "basketball reasons." Yes trading Rudy saves money, but it also increases flexibility, which will allow Memphis to improve on the court down to line. That's a basketball reason, too.
3SOB: With the team's trade exceptions factored in, do you believe the team should make another move and if so what type of player do they need?
BM: If Memphis can get a dead-eye shooter, they'll do it. Playing Bayless at the 2 with the starters has been a nice look in the interim.
3SOB: With 32 games remaining in the regular season, how do you rate Memphis' chances of hosting a playoff series? Do you believe this team can advance out of the 1st round?
BM: Another tough one! I'd put them at even odds with Denver and Golden State, which is a pretty good place to be. You'll have to ask me again after I've had more time to watch their new lineup combinations and to see whatever other adjustments they make … but if they get home court advantage, I'd probably favor them to get out of the first round.
Thank you Beckley for your time and insight. We look forward to reading any new insights you may have on the Grizzlies moving forward.