Who: Memphis Grizzlies vs Indiana Pacers
When: Monday, December 31st, 2:00 PM CST
Where: Bankers Life Fieldhouse, Indianapolis, IN
Records: Memphis (19-8), Indiana (17-13)
Media: SportSouth, 92.9 FM, 680 AM
Forums: 3 Shades of Blue, Grizzlies Message Board
Memphis heads out to Indianapolis looking for its 20th win on the season, in what will be the final game of what was a roller-coaster year in 2012.  The Grizzlies have soared to home court advantage in the playoffs, endured a painful seven game series loss in the first round, started this season in the driver's seat atop the rest of the league, have looked pedestrian of late as they fell back to the mean, and oh yeah underwent a major ownership/structural change.  All in all, I'd consider this year a success, but they're going to need to continue taking steps forward in 2013.  Painting with a much narrower perspective, the last game for Memphis was the quintessential Grit n' Grind bout.  Our Grizzlies kept the highly potent Denver offense (which to be fair was on the tail of a back-to-back) to a grand total of 75 points.  Rudy Gay was the man down the stretch, and there was a wonderful and lengthy Hamed Haddadi sighting.  Everything wasn't all coming up roses, however, as sixth man and jack-of-all-trades hustle player, Quincy Pondexter went down with a painful MCL injury.  Thus far the timetable is a vague "few weeks" as of Q's Twitter page.  Get well, Q.  We're going to need you.
Indiana is a team that I endearingly referred to as the "Grizzlies East" when I wrote about them for the Assessing the Enemy series.  They play a similar hard-nosed, grinder-style game, and exhibit many similarities in the matchups.  Their results this season have been mixed, as they are still pulling things together while they wait on all-star forward and team captain, Danny Granger, to recover from the procedure he had done on his knee.  That being said, their defense has been on point.  Similar to the Grizzlies, the Pacers hone in on their defense as their best offense to win games.  In fact, they measure as a close second to none other than our Grizz in Hollinger's defensive efficiency rating, as well as opposing points per game.  The Pacers have been hot of late, losing to only the Atlanta Hawks in  their last five.
Expected Starting Lineups:
Mike Conley vs George Hill:
Similarity number one:  here we've got two members of Indiana's "Magnificient Seven," the group of AAU and high school phenoms that rose out of the Indiana area, ultimately making their way into the NBA.  George Hill was one of Greg Popovich's preferred players in San Antonio, and earned himself a nice extension this offseason with the Pacers.  He's a heady and confident floor leader who makes most of his waves by scoring the basketball.  His assists per game have crept up to nearly double his career average this season, as is the case with his 3-point makes per game, and he doesn't turn the ball over much.  His versatiliy was put on display earlier in the year when he posted a 15-10-10 triple double.  Under normal circumstances I'd give the edge to Conley, but he hasn't been able to find his shot lately.
Advantage: Indiana

Tony Allen vs Lance Stephenson:
Lance Stephenson has risen for the Pacers as Paul George's running-mate in Granger's absence and has filled in quite admirably to this point.  Stephenson has always been able to score the ball and has never been known for his defense, but he's made considerable strides in that department thus far.  He's come a long way overall, but hasn't run into a freight train of a defender like Tony Allen just yet.  I'd expect Tony to get the better of him and knock him off his game in this one.
Advantage: Memphis
Rudy Gay vs Paul George:
Similarity number two: Rudy Gay and Paul George, overall.  These two dudes have so much in common it is uncanny.  When George was in the draft, I remember a lot of chatter amongst fans that the Grizzlies should take him, should the opportunity arise.  A major counter-argument was, "we already have one Rudy Gay."  From the highlight reel dunks, to the freakish length and athleticism, to the tendency to make it seem like they're not even trying, because the game comes so easy to them, Rudy and PG are two peas in a pod.  George shoots a better percentage from the field, averages more rebounds and assists, is having a better December, and is playing this one on his home floor.
Advantage: Indiana
Zach Randolph vs David West:
I really don't want to be annoying, but here's another matchup in which the players exhibit similar traits.  Zbo and David West serve basically the same role on similarly structured teams.  Zach is the "been there," hard-nosed, grizzled vet, on an otherwise young team, who's a bit undersized, but very crafty on the offensive end.  Replace the word "Zach" with "West," and the entire sentiment of the sentence holds.  One major difference, though, is that West is nowhere near the terror on the glass that Zbo is.  He does have a way more killer stroke from mid-range, but I've got to take the boards into consideration…
Advantage: Memphis
Marc Gasol vs Roy Hibbert:
Marc Gasol and Roy Hibbert are both 7+ foot, potentially game-changing big men, who made the mark to their first respective all-star appearances last season.  Hibbert is more active on the defensive end, blocking and altering shots, where Marc is more effective as a playmaker on the offensive end.  Hibbert thrives more on his usual height advantage, where Marc doesn't take advantage of his enough.  When you negate the factor of size advantage from either side of the equation, I'd put my money on Marc.  In addition, since Hibbert's production fluctuates so variably, and he posts a far worse PER, Gasol seems a much more sure bet.
Advantage: Memphis 
Benches: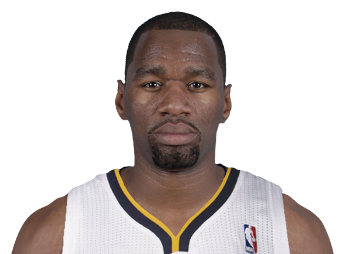 Swingmen, swingmen, swingmen.  The story of the night is swingmen.  Even without Granger in the lineup, the Pacers have a bunch of them, and serviceable ones at that.  Lance Stephenson bumped his way into the starting lineup, but Gerald Green and even former Grizzly, Sam Young, have found their way into meaningful rotation minutes as well.  For the Grizzlies, this is going to be Wayne Ellington's time to shine.  He's going to have his work cut out for him, and not only in this game, as he will be on double duty to try and make up for some of the lost production with Q-Pon's injury.  This upcoming month is his chance to prove that the Miami game wasn't a one hit wonder.  Swingmen don't tell the whole story, though, as the Pacers also boast bruisingly active post players, Tyler Hansbrough and Ian Mahinmi, as well as a talented, but underwhelming thus far, back up point guard in DJ Augustin, in their deep lineup.
Advantage: Indiana
Opponent Views:
8 Points, 9 Seconds