This is the 4th part of our continuing series at 3 Shades of Blue as we look back on former players that we would like to see in Beale Street Blue once again.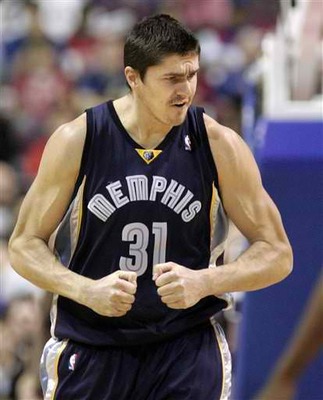 Darko Milicic. The #2 overall pick in the 2003 NBA Draft. Ahead of Carmelo Anthony, Dwyane Wade, Chris Bosh, and a host of other notable players. A 17-year old foreign wunderkind that no one had seen outside of a few game tapes. Touted as Dirk Nowitzki meets Toni Kuckoc with a side of Arvydas Sabonis. A 7-footer who was athletic, could shoot, and had all of the potential in the world.
Well, we know how that story went. (And yes, I'm still pissed off at Larry Brown for his big role in that.) He languished in Detroit, went to Orlando and acquitted himself well as Dwight Howard's backup. When he became available, Chris Wallace was quick to snap him up to be the Grizzlies' starting center for the 2007/08 season.
He played well next to Pau Gasol before the trade that sent the Spaniard to the West Coast and the hated Lakers, starting 64 of the 70 games he appeared in. Of course, it was that trade that gave the Grizzlies the draft rights to Marc Gasol who became the starter the next year as Darko suffered through a number of lingering injuries that limited his effectiveness. The Serbian was still a quality backup center, posting a career-high in FG%. He was part of the most culturally interesting rotation in the league, as the Grizzlies had Darko, Marc, and the newly signed Iranian, Hamed Haddadi, as their centers.
Darko has been the butt of jokes, a source of disdain, and an object of derision since his rookie campaign. By the time he hit Memphis, he was a punchline more than a player, despite his respectable level of play with the Magic. That's what happens when you get drafted too high…ahead of at least two MVP candidates…even though that is something he had no control over.
Even in Memphis, fans constantly picked at him for what he wasn't, rather than appreciating what he did bring to the table. Darko was a defensive anchor when on the floor. He was usually able to body up big centers, and alter shots for those who dared to drive the lane when he was near the rim. Hand issues occasionally hurt his rebounding numbers and ability to finish at the rim, but he rarely gave up on plays and always brought a level of intensity that occasionally bordered on the scary.

I like having Hamed Haddadi on the team, and I'm excited to see what this team will do with a healthy quartet of Zach Randolph, Marc Gasol, Marreese Speights, and Darrell Arthur manning the post most nights. But a part of me wishes that we could have another tough, skilled 7-footer like Darko waiting in the wings. His camp is in discussions with teams like the Bulls and Heat, both of which could certainly use his size and services. If he wasn't out of their salary cap price range, I'd have loved for them to have brought back Milicic for another tour of duty with the Grizz. Guess I'm just a sucker for a guy still looking to redeem himself from failing to meet stratospheric expectations.