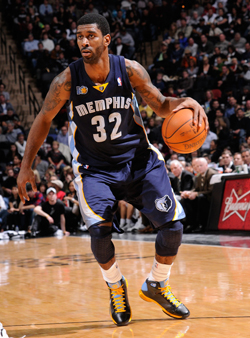 So many comments have been made to me lately about what would happen in Memphis if O.J. Mayo goes back to scoring 18 or more points a game in Dallas.
I always respond to the question with a question: what if Mayo scores all these points and the Mavericks miss the playoffs?
Let me clarify something. I fully expect that, given the minutes and opportunity, Mayo will be quite capable of scoring 20 points or more in Dallas, Memphis or anywhere.  He's that good of a scorer.  When Mayo focuses on putting the ball in the basket, there are few players capable of stopping him. He has range past the 3-point line. He has great leaping ability to go up and over most guards trying to defend him.
I would not be concerned or surprised if Mayo has a huge scoring season in Dallas. I would be surprised if Dallas makes the playoffs with Mayo attempting to average 20 points a game.
I know Jason Terry in his 30's was averaging between 19.6 and 15.1 PPG on a Dallas team that routinely made the playoffs, but this is not that Dallas team. Gone are not only Terry, but also Jason Kidd who helped set up Terry's points. Gone as well are such players as Tyson Chandler, J.J. Barea, Peja Stojakovic, and more who helped make Dallas such a dangerous team.
This Dallas team has aging players such as Shawn Marion (34), Elton Brand (33), Chris Kaman (30), Dahntay Jones (32), Vince Carter (35), Brian Cardinal (35) and Dirk Nowitzki (34). They also have youth such as Jared Cunningham (21), Jae Crowder (22), Dominique Jones (24) and two players (Tadija Dragioevic and Bernard James) who are in their mid 20's but are still only rookies.
In other words, outside of Darren Collison (who washed out of Indiana) and Brandan Wright (washed out of Golden State), Mayo is the only experienced player entering the prime of his career. Usually that is not a recipe for success.
So, should Memphis fans be more concerned with how many points Mayo scores or how well he integrates himself into the Dallas team to keep their  streak of 12 successive playoff appearances. Shouldn't fans be more interested in judging how many more or fewer games the Grizzlies win than how many games Mayo starts?
I've always been a team-oriented person myself. I believe the Grizzlies win total is more important than any one player's scoring average. Likewise, the only way to properly judge whether the Grizzlies made a mistake in letting Mayo go or not would be the evaluate if the team improves or not next season. Likewise, the only way to determine if Mayo is improving his play or not is to judge it in the team context. Just scoring points on a losing team does not mean a player is great any more than not scoring a ton of points on a poor team makes a player bad. Scoring is only important in how it affects the team's winning or losing.
Or as noted Olympic hockey coach Herb Brooks once said, "The name on the front of the jersey is a lot more important than the one on the back." That means the team is far more important than the individual.
Consider the list of All-Star NBA players. Nearly all of the elite players play on winning teams. For every Carmelo Anthony on the Knicks or Kevin Love of the Timberwolves, there are far more players the likes of Kevin Durant, LeBron James, Tim Duncan, and Kobe Bryant who not only put up sensational individual numbers, but also produce wins for their team.
So, whether or not Mayo scores as many points as his first two seasons with the Grizzlies or even more is unimportant to me. If Mayo helps Dallas win more games, he'll be a success. If he puts up big numbers, but the team loses more games, will anyone care how many points he scored?