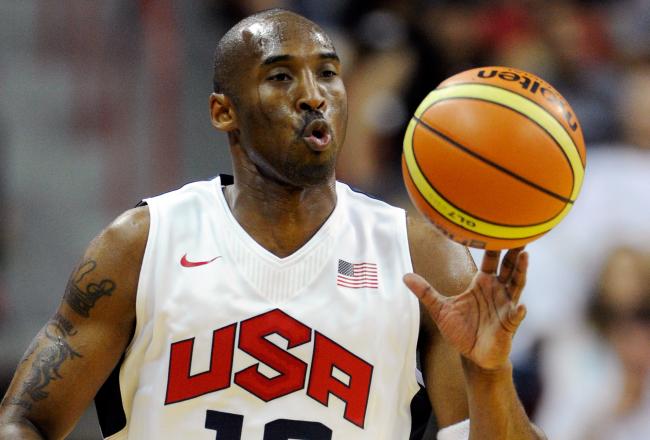 That's right — I don't like watching Team USA in the Olympics. In fact, I haven't seen more than 3 minutes of them so far since they arrived in London. I've had Kobe and LeBron on my TV more often while they were in the stands watching other athletes perform than while actually on the hardwood.
Just so we're clear: I'm patriotic and proud of my country. I root for the red-white-and-blue at every opportunity….except when it comes to basketball. I don't root against Team USA, mind you, but I just find it incredibly difficult to actively cheer for continued, expected domination — and the risk that comes with it.
When I was 12 years old, I sat down to watch the greatest basketball team ever assembled: The Dream Team. (Side note: I know there has been some debate about how this current incarnation would stack up with that squad, and let me just tell you that it wouldn't even be a game. I could go point-by-point, position-by-position, but you'll just have to take my word for it because this post isn't about that.) The Dream Team laid waste to everyone they faced. They were the biggest thing in the Summer Olympics that year — some wild combination of The Beatles, Elvis, and Whitney Houston (at her pop-diva superstar best during that time period coincidentally enough) all rolled into one that took Barcelona by storm and never looked back.
Opposing players wanted to take pictures with and get autographs from the players before, after, and probably during the games. They were unabashedly in awe of these demi-gods (and, of course, Christian Laettner). It was one of the most phenomenal things I've ever seen.
Since then, it has been expected (demanded?) that the Americans will win gold no matter who happens to be on the team. I think those expectations (which are admittedly fair) are what contribute to me not enjoying watching Team USA on the hardwood. Because it isn't just expectations, but the idea that the Americans should dominate lesser competition every time out. Games like the recent one against Lithuania are considered "unacceptable" by pundits and fans alike. That's somewhat disheartening to hear, considering they still won.
Quick quiz: Who can tell me how many games Team USA has lost in men's basketball in the Olympics?
Since becoming an official sport in 1936, the Americans have lost a total of 5 games in Olympic competition — and 3 of those were in the horrific 2004 Games in Athens. The other two games lost were the beyond controversial loss to the USSR in 1972 and then the loss in 1988 that helped bring about the rule changes that allowed professionals to play.

I have no issue with NBA players being permitted to play in international competitions. In fact, I think it is good for the game of basketball — and for the NBA, too. What I don't like is seeing guys like Kobe Bryant — he of 16 NBA seasons, 5 NBA championships, and more playoff games than I care to think about — playing even more games during the summer following the last few seasons of him being injured and worn down. Tim Duncan recognized the toll it takes on one's body. That, as much as the difference in rules, is why he no longer plays in international competition. Or how about LeBron James — coming off back-to-back appearances in the Finals — continuing to play big minutes for Team USA the last few summers? His teammate, Dwyane Wade, would have been on the court in London too, if not for knee surgery this offseason.
As a fan of the Grizzlies, I probably should be happy that the stars of teams like the Lakers and Heat are putting more wear-and-tear on their bodies, while most of the players on my team stay at home and rest. But I'm a fan of the NBA. I want to see the best of the best competing at the highest levels. So, you'll never see me root for an injury to any player — no matter how annoying I might find them. But that leads to changing the rules for international competition yet again, and I'm not ready to tackle that just yet.
The U.S. is expected to win in dominant fashion. Realistically, only Spain and Russia are supposed to be able to compete with us. With all due respect to those nations, given the respective talent levels, even they shouldn't be able to win. And that's what prevents me from enjoying Olympic basketball games involving my home country. Who wants to watch a game where the outcome shouldn't really be in doubt? Not me, that's for sure.