There are times when a fan will sit back and reflect on what previous incarnations of his favorite team the current one reminds him of. Other times, you might compare them to other teams of the past. Our own John Hugar even did that just the other day. However, I originally did something like this for an ill-fated Clippers pre-game a few weeks back that never made it to publication, and I'm a bit more ambitious, so I decided to find an apt comparison for every Western Conference playoff team. Fun, right?
San Antonio Spurs (2011/12) = Houston Rockets (1996/97)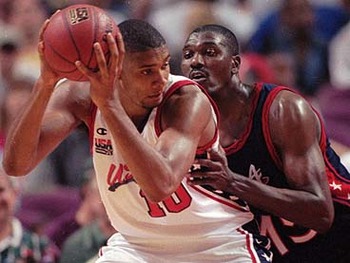 It would be easy to just compare the Spurs to themselves of the past few seasons…too easy, in fact. But take a look at this team with Duncan, Parker, and Ginobili as their "big three" and that Rockets team that boasted three Hall of Famers in Hakeem Olajuwon, Clyde Drexler, and the newly acquired Charles Barkley. Three great players in the twilight of their respective careers, but still enough left in the tank to scare the daylights out of any opponent with an ounce of common sense. That Houston team made it to the WCF before falling to the Utah Jazz. This Spurs team could definitely make it to the conference finals…and even beyond, if things fall into place for them.
Utah Jazz (2011/12) = Denver Nuggets (1993/94)
Do you remember the team that shocked the basketball world? The Nuggets, led by Dikembe Mutombo, Mahmoud Abdul-Rauf, and Brian Williams (Bison Dele), stunned everyone by becoming the first #8 seed to ever win a a series in the NBA playoffs by toppling the heavily favored Seattle Supersonics that featured Shawn Kemp and Gary Payton. With young players like LaPhonso Ellis, Robert Pack, and Rodney Rogers on board, it was as if the Nuggets didn't really know that they weren't supposed to be able to hang with a team that won 60+ games. In a similar way, this Utah team just keeps winning games that no one expects them to — especially at home. I don't know that they have enough to be the second #8 seed in a row to knock off the Spurs, but with Al Jefferson, Devin Harris, and Paul Millsap as their core, and talented players like Gordon Hayward, C.J. Miles, and Derrick Favors playing complementary roles, they could definitely make things interesting.
Oklahoma City Thunder (2011/12) = Phoenix Suns (1992/93)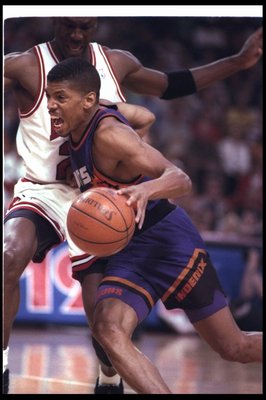 Let's see… Star player who is consistently in the MVP conversation: Check. Point guard who is tough, physical, and loves to dunk on people: Check. Unconventional third option who can light it up any given night: Check. Role players who know their place in the pecking order: Check. I remember this Suns team very well. Charles Barkley led them all the way to the Finals that year, and if it weren't for Michael Jeffrey Jordan, he would have gotten a much-deserved ring that summer. Like Barkley, Durant is a guy who just knows how to score, often in unique and unconventional ways. Westbrook reminds me of vintage Kevin Johnson so much that it's a little scary. This Thunder team definitely has what it takes to make the Finals or even win it all.

Dallas Mavericks (2011/12) = Miami Heat (2006/07)
Rarely does a defending champ receive as little respect as this Mavs team has. But, when you start off the season by getting blown out and then lose a lot early in the season, that tends to happen. Just ask that Heat team if you don't believe me. Following their championship run the previous year, they suffered through a lot of mishaps and were written off before making a run through the middle of the season, putting themselves firmly into the postseason conversation. The Heat suffered a few more mishaps and were ultimately bounced in the first round. The Mavs face an uphill battle and could find themselves with the same fate, although I'm sure Dirk and company will have something to say about that.
Los Angeles Lakers (2011/12) = Indiana Pacers (1999/00)
There were a number of teams that came to mind when thinking about this Lakers squad. The 2000/01 Sixers are appropriate, given Kobe's metamorphosis into Allen Iverson this season, but the Lakers are far more talented than that Philly team ever dreamed of being. The 2009/10 Celtics also seemed a likely fit, but I don't think they are as good as that Boston team was either. That Pacers team though…led by Reggie Miller, and buoyed by Mark Jackson, Rik Smits, and Jalen Rose. I can see the similarities. Kobe has largely become a jump-shooter at this stage in his career, so it's not far-fetched to make the comparison of him to Reggie. The Lakers' frontline is more talented than the Pacers' big men were, but Smits, Dale Davis and Co. were good enough to make the Finals. Will the Lakers be able to put enough good games together to say the same?

Denver Nuggets (2011/12) = Memphis Grizzlies (2005/06)
This Nuggets team wins games. I watch them and cannot explain how they win games, but I can look at the final score and the standings and see that somehow, contrary to conventional wisdom, they win games. It reminds me of that Grizzlies team from yesteryear — the one that saw a quarter of the team gone via trade, and yet still won the second most games in franchise history. Both teams are run on a philosophy of "team first", as there are no superstars to be found. On any given night, any player could step up and lead the team to a victory…and that's hard to plan for. Of course, it also makes it difficult for that team because when things aren't going well, they don't necessarily have "that guy" to look to either.
Los Angeles Clippers (2011/12) = Phoenix Suns (2004/05)
The Fun-n-Run-n-Gun Suns vs. Lob City. This was back in the days when Amar'e Stoudemire did nothing but run the floor and dunk (*coughBlakeGriffin&DeAndreJordancough*). When the Suns took three-pointers at such an astounding rate that they looked like a mid-major college team sometimes (Chauncey Billups/Mo Williams/Nick Young/Randy Foye). During the era when Steve Nash was unquestionably the best point guard on the planet. In fact, it is the Nash-Chris Paul comparison that makes this work. Without Nash, that Suns team was nothing. In the same way, without CP3 running things, this is a lottery team. Talent without leadership is just a waste.
Memphis Grizzlies (2011/12) = Sacramento Kings (2001/02)
You know this Kings team. Webber, Divac, Bibby, Peja, Christie, Turkoglu, Jackson. Game 6 against the Lakers. Now…look at this Grizzlies team with Z-Bo, Marc, Conley, Rudy, TA, Speights, Mayo. You see it, don't you? It's almost eery, really. However, there is one difference that almost made me change this to another team. That difference is defense. The Grizzlies play it — often as if their life depends on it. That brings to mind another team from way back when. You older fans probably already know where I'm going with this. Maurice Lucas, Bill Walton, Bob Gross, Larry Steele and, of course, Lionel Hollins. That's right…the 1976/77 Portland Trail Blazers. This Grizzlies team has so completely adopted the mindset of their coach that this team resembles his championship team from top to bottom. That bodes well for the future.
As always, feel free to leave comments with your own thoughts.