With the draft quickly approaching, we here at 3 Shades of Blue figured it was time to start taking a closer look at the players that the Grizzlies might be interested in at their current draft position in the #25 spot. Now, through multiple conversations over the past few years with Grizzlies' VP Chris Wallace, we have a pretty good idea of what he's looking for when it comes to evaluating talent — especially late in the first round. The key word there is "Talent", because drafting for need is almost never a good idea in the NBA. This is definitely the case when dealing with a first-round pick that will receive a guaranteed contract.
Today, we take a look at Vandy's junior SG, John Jenkins, one of the best shooters in the draft. In fact, when it comes to outside shooting, you would be hard-pressed to find a better prospect than the soon-to-be former Commodore. Sporting a 3-point percentage of 44% and a True Shooting Percentage (TS%) of 65%, he's the real deal when it comes to putting the biscuit in the basket from the perimeter.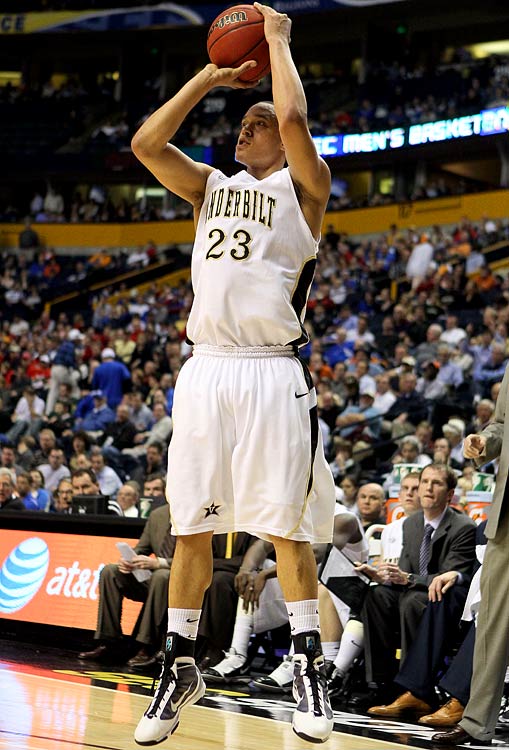 Players like J.J. Redick, Jason Kapono, and Anthony Morrow have proven that being a consistent perimeter threat is enough value to get you into the league. If you can get your shot off in the NBA and make it, then teams can utilize you. By all accounts, Jenkins will be able to get his shot off against taller and more athletic players. Let's assume that is true, since the experts seem to agree on it. What else does Jenkins bring to the table?
His offense is largely limited to his outstanding perimeter shooting. He lacks the quickness and athleticism to consistently drive past defenders and get the the rim. As the primary scorer for Vanderbilt (at an impressive 19.9 ppg), he wasn't asked to pass that often. That probably explains his rather anemic 1.1 assists per game. However, he doesn't turn the ball over often at all, which could make him a relative improvement over the apparently departing O.J. Mayo who struggled to maintain control with the ball. Jenkins' ability to quickly get his shot off while coming off screens and in catch-and-shoot situations contributes mightily to the lack of turnovers he tallies, as the ball goes in to him…and then goes up. Let it be clear: John Jenkins is a shooting guard, not a combo guard — and surely not a point guard.
On defense, Jenkins is….limited. He finds it difficult to stay in front of opponents due to his poor lateral quickness which can be attributed to his below-average athleticism. In addition, at 6'4″, he's slightly undersized for a SG, although coming off the bench should help alleviate some of that. His biggest challenge will be to post a positive +/- in terms of his individual matchup while on the floor as he is far from a solid defender, which makes his scoring/shooting that much more important.
If drafted by the Grizzlies, he obviously fills a need. His shooting off the bench behind Tony Allen would be a big boost. However, I'm not a fan of drafting based on need as it is fool's gold as far as I'm concerned, and I do believe that there are better players available that would be much better NBA players down the road.